Tee it Up: Golf the Kootenays this summer and fall
The Kootenay Rockies is home to many golf courses, from nine-hole gems to challenging, championship courses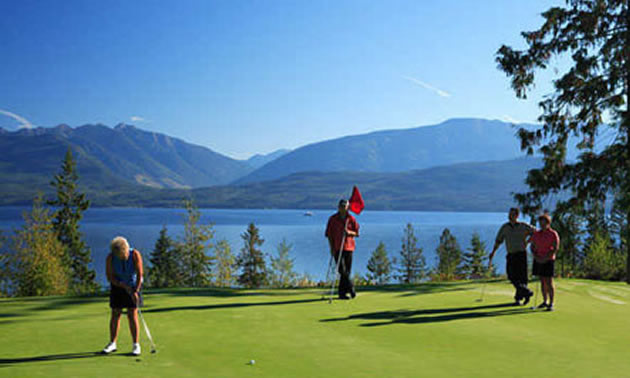 The Kootenay Rockies region in southeast British Columbia is home to dozens of golf courses from nine-hole gems to the most challenging championship courses. Whether you choose to play a nine-hole facility, a municipal course or one of the many championship courses, you are guaranteed a memorable and enjoyable golf experience. So plan to golf the Kootenays this summer and fall!
Balfour Golf Course — Balfour, B.C.
The Balfour Golf Course is known as one of nature's most scenic courses – designed by legendary golf designer Les Furber. It's carved from the forested upland high above beautiful Kootenay Lake. Balfour's unique 18-hole layout offers well-maintained fairways and undulating greens – challenging every skill level. A warm welcome awaits golfers. When your round is wrapped, scores are tallied and refreshment orders placed – then it's time to treasure Balfour's unforgettable golf experience.
602 Queens Bay Road
Balfour, B.C.
Golf Shop: (250) 229-5655
Website: www.golfbalfour.com/
Birchbank Golf Club — Trail, B.C.
Bring your accuracy sticks when you play Birchbank. The fairways at Birchbank are well-treed, so it is important to keep your tee shot straight. Golfers need to keep the ball below the hole on the greens. The course is not long, but the hazards are placed within driving range for most players, so hitting other clubs off the tee accurately will get you in play without any penalty. Birchbank is equipped with a great practice area and short game area, so make sure you give yourself enough time to hit a few balls before you play. Swing soft, swing straight and enjoy the views along the banks of Columbia River. Welcome to Birchbank – a classic Kootenay golf experience.
5500 Highway 22
Trail, B.C.
Golf Shop: (250) 693-2255
Website: www.birchbankgolf.com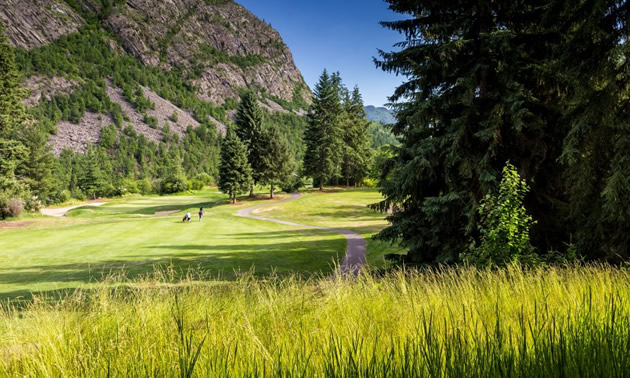 Castlegar Golf Course — Castlegar, B.C.
Castlegar Golf Course is rated four stars by Golf Digest and sits at the crossroads of the Kootenays. It has been singled as consistently one of best golf courses in the Kootenays, and in Canada for that matter. It's always a remarkable golfing experience and an affordable one, too. A true championship 18 hole, semi-private golf course soaring high above the majestic Columbia River. The public is always welcome!
1602 Aaron Rd
Castlegar, B.C.
Golf Shop: (250) 365-5006
Website: www.golfcastlegar.com/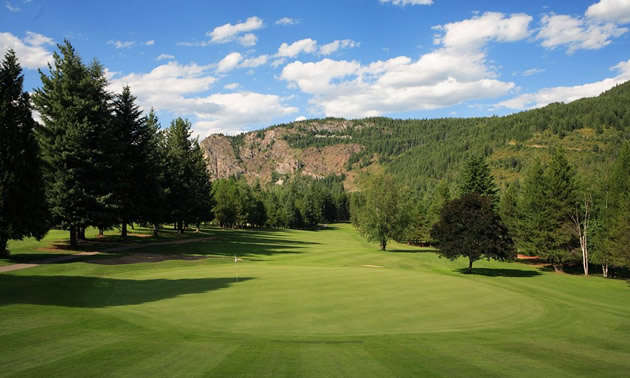 Creston Golf Club — Creston, B.C.
'Open early - open late' — that describes the Creston Valley Golf Club. It is known as one of the finest competitive layouts in golf and because of Creston's mild weather the course often opens early in the season and closes late. It comes with a storied golf history since its inception in 1954. The course is very playable for every level of golfer, from novice to expert. With rolling terrain and fast, undulating greens it often requires that you use every club in your bag. Elevation changes put club selection and shot-making at a premium. Professionally designed and immaculately maintained, this wonderful facility is playable from a number of tees ranging from 5300 to 6500 yards. The club has proudly hosted five of the most prestigious BC golf championships over the years. The Creston golf course offers everything to golfers for a very enjoyable and challenging test of their skills!
1800 Mallory Road
Creston, B.C.
Golf Shop: (250) 428-5515
Website: www.crestongolf.com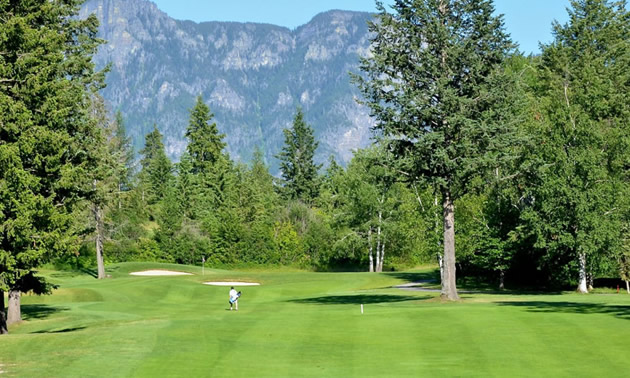 Christina Lake Golf Course — Christina Lake, B.C.
The Christina Lake Golf Course was opened in 1962 and was expanded to an 18-hole, 6785 yard course in 1986. The course expansion was designed by famed designer Les Furber. It shows off his signature architecture with elevated tees, strategically bunkered greens and fairways, multi-tiered greens and four holes featuring water hazards. This is the first course in Canada to offer the unique feature of black sand traps. The course is regarded as one of the top 25 in British Columbia. The signature hole on the course is the 9th, a 215 yard par three. An elevated tee box looks down upon a green bordered by two sand traps on the right and a large lateral water hazard along the full length of its left side. Located on the scenic Kettle River, the course is surrounded by ponderosa pine and fir trees, with the Monashee and Selkirk Mountains providing a beautiful backdrop. RVing? Christina Lake Golf Course has adjoining RV sites for your convenience. Stay a night or stay a week – you won't tire of Christina Lake any time soon. Remember they have great stay and play packages.
230 – 2nd Ave
Christina Lake, B.C.
Golf Shop: (250) 447-9313
Website: www.christinalakegolfclub.com/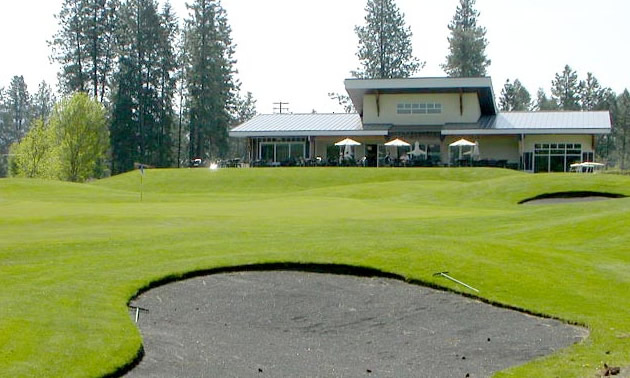 Granite Pointe Golf Club — Nelson
See you at the rock! The granite rock, that is. Granite Pointe Golf Club in Nelson is an 18-hole course that promises to wow you! With its excellent pro shop, RV park, restaurant, junior golf, tournaments and other events, this facility has earned a shining reputation among West Kootenay golfers. The course is just minutes from downtown Nelson, and offers views of the cityscape, Kootenay Lake and the famous Kokanee Glacier. The RV park at Granite Pointe has 10 RV sites available for rental. These sites are conveniently located within steps of the pro shop, driving range, practice green, tennis courts and clubhouse where the restaurant, showers and washrooms are situated. Golf the rock!
1123 Richards St W
Nelson, B.C.
Golf Shop: (250) 352-5913
Website: www.granitepointe.ca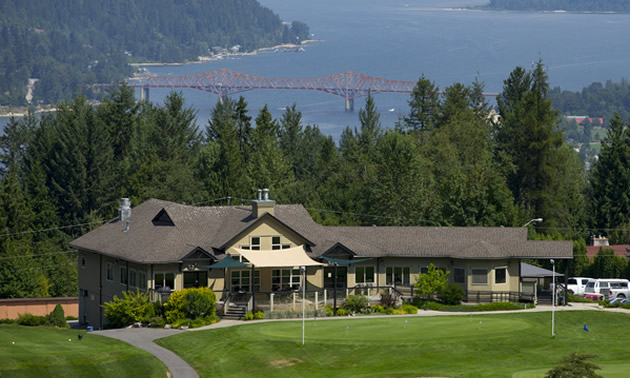 Kokanee Springs — Crawford Bay, B.C.
Get inspired! Kokanee Springs, in Crawford Bay, is considered golf designer Norman Wood's masterpiece. World renowned golf course architect Norman Woods had been commissioned to design the layout after a long apprenticeship under Stanley Thompson. (Thompson designed the Banff Springs and Jasper Park Lodge Courses in the Canadian Rockies). Sixty-four bunkers, twelve water hazards and 124,000 square feet of elevated, multileveled greens and 90,000 square feet of terraced tee surface were all part of his plan. As if the hazards Woods created weren't enough of a challenge, Kokanee Springs is a big golf course. A well played round can take you 6.5 miles. The yardages are 6604 from the blue markers, 6260 from the whites and 5747 from the reds, on this par 71 course. It's called inspired golf at Kokanee Springs.
Box 96
Crawford Bay, B.C.
Golf Shop: (250) 227-9226
Website: www.kokaneesprings.com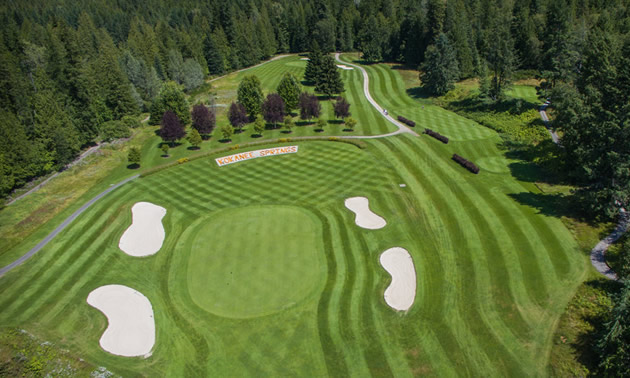 Mountainside, Riverside and Creekside Golf Courses – Fairmont Hot Springs, B.C.
Where golf memories are made! Riverside Golf Course lives up to its name, this 18-hole championship course crosses back and forth over the headwaters of the Columbia River a total of six times. Its undeniably scenic setting attracts golfers of all ages and skill levels. Mountainside Golf Course is set against a stunning Rocky Mountain backdrop and this historic course has been testing golfer's skills for more than 50 years. It is a classic – one of the must plays in the Columbia Valley. Creekside Golf Course is a "big hole" course – with 8 inch cups. It features unique fairways with ponds, cascading creeks and sandy bunkers, all delivered on a fun nine hole Par 3 layout.
5225 Fairmont Resort Road
Fairmont Hot Springs, B.C.
Resort: (250) 345-6070
Website: www.fairmonthotsprings.com/golf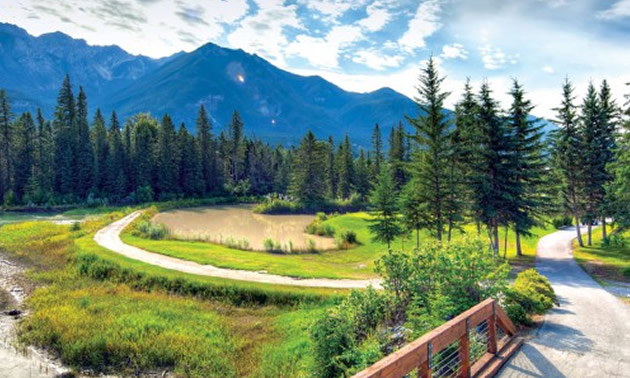 Wildstone Golf Course – Cranbrook
Referred to as a "star" in the Kootenay golf scene. Wildstone is golf legend Gary Player's first and only Canadian designed course with a Black Knight designation. With a spectacular panorama of the soaring Canadian Rockies and much talked about superb playing conditions – Wildstone is a don't miss course. It features hole #4 as its "long bomber" at 7,127 yards – it is always a pleasure to play. Massive greens and strategically placed bunkers make this a golfer's challenge and a pleasure.
950 Wildstone Drive
Cranbrook, B.C.
Golf Shop: (250) 489-1282
Website: www.wildstonegolf.com