Fruit and wine aplenty
Be dazzled by the delicious diversity in this sun-drenched region
by Kali Love —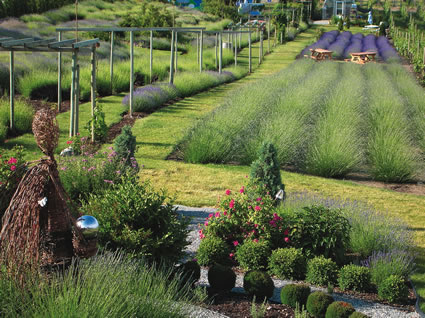 The Thompson Okanagan is world famous for its orchards, farms and vineyards, which exist because the region's hot, dry climate. The gorgeous sunny weather and abundance of fresh produce and related products attract wine connoisseurs and fruit lovers alike.
Flavour and fragrance
Kelowna, the largest city in the Thompson Okanagan, is surrounded by beautiful vineyards, farms and orchards. In the spring, the hillsides are blanketed in apple, pear, peach, apricot, cherry and plum blossoms; from June to mid-October people cab enjoy everything from sun-kissed cherries to vine-ripened squash.
For something out of the ordinary while in the Okanagan Valley, check out the Okanagan Lavender Herb Farm. This particular farm was purchased in the 1950s and was an apple orchard until 1994, when the apples started to decline. A test block of lavender was planted and the rest is history. Today, the Okanagan Lavender Herb Farm is a must-see. In addition to offering culinary, home and bath products created from several varieties of lavender, the farm has set times in July when visitors can come and pick their own lavender.
For an educational and invigorating excursion, visit the Kelowna Land and Orchard Company Ltd. (KLO)—an orchard that spans 150 acres and produces four million pounds of fruit each year. This family-run company opened its doors to visitors and schools in 1995. Today, KLO sees 70,000 people annually.
Modern orchard operations, a petting zoo and a souvenir shop carrying local crafts and preserves offer something for everyone at KLO. New to KLO is the Raven Ridge Cidery, where beverages including iced apple cider and sparkling cider can be taste-tested.
Resources: