Top things to see and do in Grand Forks
Head out to Grand Forks, B.C., and investigate these must-see attractions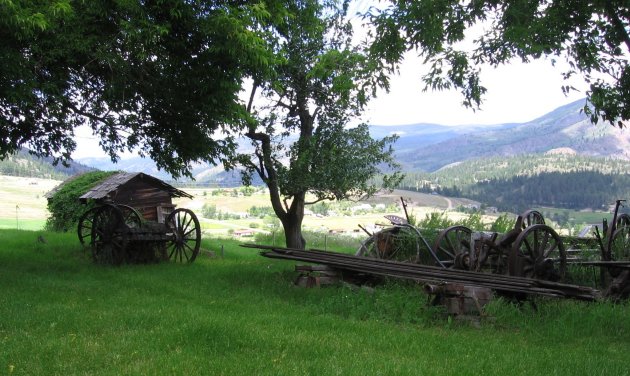 Charming, scenic and steeped in history - we must be talking about Grand Forks, B.C.! As the largest community in the Boundary region, Grand Forks is a hub of activity, known for its outdoor recreation and heritage sites. In case you're wondering where to start, here is a list of the top attractions to check out in this gorgeous area.
Established in 1958, the Boundary Museum and Interpretive Centre has evolved into a fascinating site dedicated to local culture and history. The facility has exhibits placed all throughout the region, including the Heritage Flour Mill, and an outdoor exhibit in Gyro Park (located in downtown Grand Forks). The main museum is housed in the Fructova Heritage Site, which was once a school built by the Doukhobors in 1929. Now you can go there to see exhibits highlighting pioneer and Doukhobor life.
Address: The main museum site is located at 6145 Reservoir Road in Grand Forks, B.C.
Cost: Admission is by donation.
2. Big Rock Candy Mountain
Big Rock Candy Mountain is sure to be a big hit with the kids. This location is near Grand Forks and offers nature tours and safaris at a B.C. heritage mine. Guests can collect colourful treasures in the form of quartz crystal geodes, green and purple fluorite and barite.
Contact information: To find out more or book a tour, call 250-442-5835.
Get your outdoor fix at Gladstone Provincial Park - there is virtually no end to the activities you can enjoy there. The park is situated approximately 20 kilometres northeast of Grand Forks, on Highway 3.
Visitors can go canoeing, scuba diving, fishing, swimming and waterskiing. There is a paved boat launch at Texas Creek, which is available year-round (although use may be limited in winter due to ice). If you'd rather stay on dry land, there are plenty of trails where you can hike, go horseback riding or have a family picnic.
RV parking? Yes
Driving instructions: The park can be accessed via Texas Creek Campground or by boat from Christina Lake. Texas Creek Campground is located five kilometres east of Christina Lake on Highway 3; turn onto East Lake Drive and follow it for four kilometres to the campground. For more detailed directions, additional trailhead access points and comprehensive maps, check out the park website.
Cost: Vehicle-accessible camping fee: $27 per party, per night. BC senior's rate (day after Labour Day to June 14 only): $13.50 per senior party, per night. Backcountry marine camping fee: $13 per party, per night.
Hours of operation: The campground is open with full services and fees from May 6th to September 18th. Gladstone marine sites are open May 15th to September 5th.