A grand place to embrace B.C. heritage
The cozy community of Grand Forks shares its past in a Doukhobor Village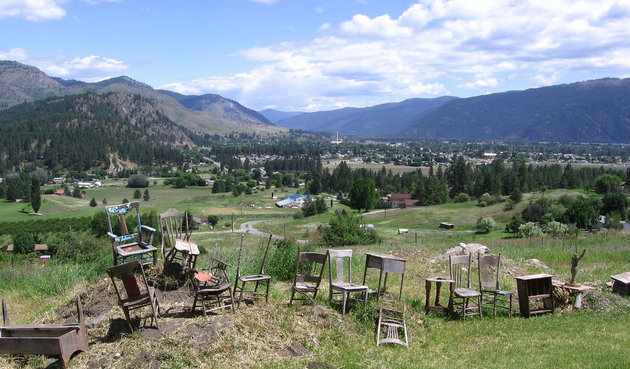 Grand Forks is central to some engaging historical attractions that you ought to peruse while camping in the area. The Boundary Museum Society operates several sites in the Boundary region, including its main museum location at the Fructova Heritage Site, the Heritage Flour Mill and an outdoor exhibit in Gyro Park (which you can find in downtown Grand Forks). But that's just the tip of the iceberg.
Learn about Doukhobor history
The Hardy Mountain Doukhobor Village, once known as the Makortoff Doukhobor Village, is another historic site that is well worth visiting. The property overlooks the Kettle and Granby river valleys and can be accessed just one kilometre to the west of Grand Forks.
Construction of the main village house was completed in 1912, and there were several other communal homes built on the property as the years went on. If you visit today, you can see that the structures were all based on the same traditional design.
Historically, Doukhobors observed a strict vegetarian diet, and they kept their villages self-sufficient by growing crops on the property and by manufacturing their own clothing, tools, utensils and farming equipment—all of it by hand. Over time, it became increasingly difficult to maintain this lifestyle, and most of the original village sites have since vanished.
That's what makes the Hardy Mountain Doukhobor Village Historic Site so special. It is still mostly intact and ready for viewing, largely as a result of Peter Gritchen—a history buff who purchased the site back in 1972, calling it the Mountain View Doukhobor Museum. Gritchen set up a vast collection of early Doukhobor items and tools and turned the location into an educational attraction. Since his death in 2000, the artifacts were purchased by the Boundary Museum Society, and the property was bought by The Land Conservancy. The artifacts have been loaned to the site, so they can continue to be displayed and viewed by the public.