Get outdoors with the family in Fruitvale
There is no shortage of outdoor recreation to be had around this quaint village—visit the area's lakes and streams for fishing, swimming, hiking and more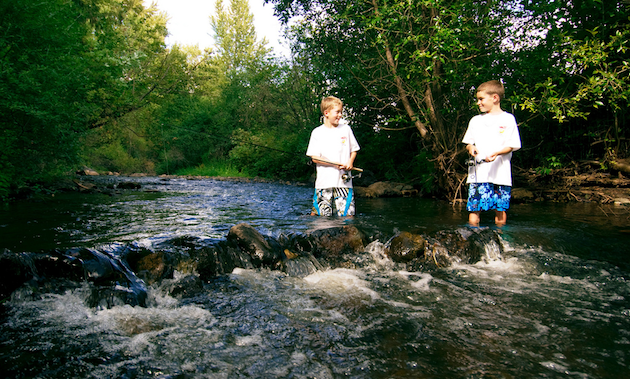 From humble beginnings as a railway stop called Beaver Siding founded in 1893, Fruitvale, B.C., has blossomed into a welcoming, rural community of 2,000 offering abundant outdoor recreation and fun activities for the whole family.
Champion Lakes Provincial Park
Three lakes and 6.5 kilometres of multi-use trails make Champion Lakes Provincial Park an all-around recreational dream for visitors looking to immerse themselves in nature's beauty. Located in the Selkirk Mountains just 18 kilometres northwest of Fruitvale, the park boasts a picturesque landscape featuring old-growth forests and sparkling lakes connected by an easy trail system.
Ross Burrell, the park's facility operator, describes the park as the ultimate place to spend quality family time outdoors.
"There are kilometres of trails to walk and wildlife to view, including turtles, beaver and numerous birds," he said. "It's also a good place for canoeing or kayaking and very popular for swimming. Fishing is also a great activity for kids."
The trails range from 750 metres of steeper grade up to the main lookout to 2.5-kilometre loops around First Lake and Second Lake. Third Lake, encircled by a 1.5-kilometre loop trail, has the warmest water of the three lakes. Visitors can take advantage of it at two day-use areas, a children's playground and by relaxing on Campers Beach.
Family fun
Melissa Zahn, projects co-ordinator with the Village of Fruitvale, said one of the best times for families to head to Fruitvale is at the end of May for the May Days celebration.
"May Days boasts a parade, fireworks, dig dirt day, a kids carnival, slo-pitch tournament, a three-on-three street hockey tournament at the Sport Court, and games and entertainment at Haines Park," Zahn said.
However, any time of the year is great for a relaxing family holiday, she added.
"Our residents are friendly and we have unique stores, beautiful natural scenery and a fresh, clean air environment," said Zahn.
Fishing at Beaver Creek
In and around Fruitvale, there are more than 23 streams and rivers where the water is welcoming and the fish are always jumping. Kids love reeling in the big one, or at least giving it their best shot, at Beaver Creek Provincial Park, where Beaver Creek meets the Columbia River. A boat launch area and calm, serene water welcome families to cruise the river in a non-motorized boat and take in scenic views of the forest and wildlife.