Follow the music to find the heart of Fort St. John
This town at Mile 47 of the Alaska Highway calls itself the music capital of northern B.C.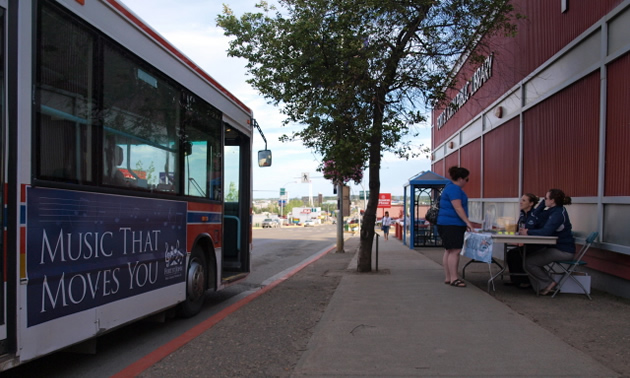 While the original intent of the nickname bestowed upon B.C.'s Fort St. John was to celebrate its ties to energy resources, the visitor centre's Rylea Cazes said it soon came to represent the energetic music scene in Fort St. John.
The city was first declared the music capital of northern B.C. in 2009 by city council, and you'll easily hear the reasons why when you take in a Wednesday open mike night at Egan's or a Karaoke Thursday at the Stonebridge Hotel. You'll also hear music pouring out to the streets from any number of live music venues in Fort St. John, including Whole Wheat N'Honey, Cosmic Grounds, Ship to Shore and the 1950s movie-theatre-turned-music-venue known as the Lido.
Revamped and renergized, the Lido is now one of the most popular music venues in the city, second only in size to the community's North Peace Cultural Centre, a 413-seat performance theatre that has hosted such artists as Cody Pritchett, Our Lady Peace and Rob Szabo.
Fort St. John has a musician exchange program that invites touring musicians to connect with the community and share their talents through one-on-one private lessons, group workshops and other opportunities. Then there's the Music in Motion series, where local musicians volunteer their time and talent to play on city transit routes. Fort St. John doesn't just welcome established artists, it also helps to support new emerging artists who are looking to make music their life's work.
When making his music capital declaration, then-mayor Bruce Lantz said the community recognized "the important role music and entertainment was having in putting Fort St. John on the map," a role he said was aided by the efforts of longtime music advocate Russell Eggleston.
Eggleston is publisher of the Northern Groove, a magazine based in Fort St. John that covers the local cultural and music scene. He wrote in a piece that more than any one person, it's the "combination of musicians, venues, and music fans that really care about our music community that have made the difference in putting Fort St. John (and more importantly our region), on the map as far as being a recognized and appreciated music community."
But Fort St. John plays more than one song, and music isn't all this city of 19,000 has to offer. For those looking to explore its surrounding wilderness, Fort St. John also offers up many eco-adventures.
Just a short drive beyond the city's bright lights, visitors will find numerous lakes and rivers where they can experience outdoor adventures including fishing, boating, ATVing, cycling, hiking, golfing, horseback riding and geocaching.
Within the largest city in northeastern B.C., visitors will discover plenty of services and shops, as well as tourist attractions that include more than 10 kilometres of paved walking trails in the Fish Creek Community Forest. Centennial Park, the grassy hub of Fort St. John, is home to several recreation venues—including a rose garden, beach volleyball courts, a spray park and playgrounds.
At the well-appointed Pomery Sport Centre, visitors will also find the North Peace Leisure Pool and its RV-friendly parking lot. Here, every Saturday from June until the end of August, RV visitors are invited to pull up, park and explore the many fun activities that lie within walking distance in a program known as the RV Round Up. Tour the local museum, stock up at the farmers market, wander through downtown to do a little souvenir shopping, check your email at the nearby visitors centre or take a cooling dip in the pool. But you'll no doubt find one day of visiting doesn't do Fort St. John justice without a night of music to round it off.
To many visitors who plan a road trip up the Alaska Highway, Fort St. John may seem but one stop along the way. Once you've discovered all it has to offer and figured out who's in town playing that night, you may just start humming a different tune.