Reconnect in romantic Florence
Florence, Arizona, has plenty of romantic day trip options for couples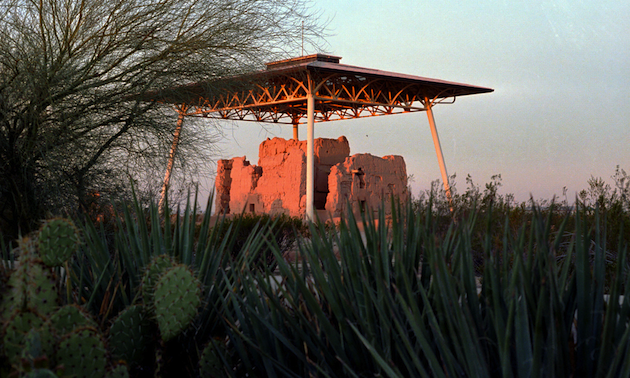 Centrally located within an hour's drive of both Phoenix and Tucson, Florence offers interesting options for couples who seek a little quiet romance. Whether you're looking for a chance to be a knight in shining armour, enjoy a feast for the senses or take a sunset stroll that turns into a stargazer's desert dream, your couple's getaway in Florence is sure to help you reconnect.
St. Anthony's Greek Orthodox Monastery
This fully operational monastery offers couples a chance to sit together in quiet reflection in a beautiful setting that includes grounds adorned with a variety of fountains. Located eight miles south of Florence off Highway 79, the buildings and grounds may be toured between 10 a.m. and 2:30 p.m. seven days a week. St. Anthony's has Old World charm patterned after monasteries in Greece.
Visitors are asked to adhere to strict clothing restrictions. Men must wear long pants and long-sleeved shirts and women must wear long skirts, long-sleeved shirts and head scarves. Modest clothing is available in limited selection within the monastery's bookstore for use while visiting. It's a small price to pay, and indeed the only price required for entrance. There are tremendous photography opportunities offered not only through the architecture of the buildings but also through the icons, artwork and furniture that was brought over from Greece in 1995 when the monastery was first opened. A visit to the monastery is a great way for couples to tune out the hustle and bustle of everyday life and simply reconnect.
The Windmill Winery
If part of your couple's getaway includes the chance to renew your vows, then there is no location more idyllic than The Windmill Winery. It's one of the most popular wedding destinations in Arizona and has a full complement of professional and friendly staff who can help you plan your event down to the smallest details. Authentic and rustic with an Old West charm, it is also the perfect location for a peaceful and picturesque lunch, a wine picnic for two or a unique evening meal on the red-bricked patio during Friday night dinners that begin as the sun sets and end under a canopy of stars.
As a winery, Windmill also offers a wine bar and tasting room located in a restored 1920s dairy barn. Featured wines include Dutchman's Bold, a robust and full-bodied red; Hummingbird Nectar, sweetened with wild honey; and a wildly popular pomegranate wine, offering a perfect pairing of sweet and sour. You can purchase a bottle and spend the afternoon taking a stroll around one of many small lakes or wandering through whimsical gardens. Better yet, enjoy a tour of the grounds with a ride in a romantic horse-drawn carriage. All in all, it's the perfect setting for romance.
Casa Grande Ruins
Located near the town of Coolidge, Arizona—a quick 20-minute drive from Florence—the Casa Grande Ruins are an ancient mystery that's yet to be solved. These are the remnants of an ancient farming community where once a tribe of Hohokam people built the Casa Grande (great house) out of nearly six million pounds of the naturally occurring caliche soil found in the surrounding desert. Over 650 years old, these ruins are a national monument. At an interpretive centre visitors can watch a brief educational video on the ruins, view additional artifacts and information or speak with park rangers about the history of the area. Then, the real magic begins as you walk down an interpretive path to the site, where you can reach out and touch one of the largest prehistoric sites ever built in North America.
No one knows for sure just why the area was inhabited or just how big the compound at the Casa Grande once was. But its mystery only serves to give the locale a certain romantic charm, as you gaze out over the desert and imagine the lives of the ancient Sonoran Desert people who once lived and thrived there.
San Tan Mountain Regional Park
Located in Pinal County south of Queen Creek and a quick drive north from Florence, San Tan Mountain Regional Park offers a vast array of romantic outdoor experiences—from scenic horseback rides to sunset and full moon walks.
By day, challenge yourself on a selection of trails that range from easy to strenuous and take in the breathtaking mountain scenery. Follow up your hike with a quick trip to the visitors' centre, where you can learn about the various types of wildlife that inhabit the park.
You can also visit the park in the cooler evening hours, when you can watch the desert come alive during ranger-led hiking events on easy-to-navigate trails, giving you a clear view of the starry sky that makes shooting stars easy to spot. Try the sunset Mutt Strut, which allows your four-legged friends to join you, or the Sunset Summits, which lead you along the rugged Goldmine Trail to one of the best views in the park. The park even offers hikes during full moons along the 2.2-mile Stargazer Trail, taking a leisurely pace so as to allow you time to truly enjoy your surroundings.
Arizona Renaissance Fair and Artisan Marketplace
While visiting the Florence area, you'll find a royal treat awaits at the annual Arizona Renaissance Fair and Artisan Marketplace. This place can truly make you feel like a king and queen for a day. Located in the eastern part of the valley, this Renaissance festival is one of the largest in North America and will run every Saturday and Sunday from 10 a.m. to 6 p.m. (rain or shine) between February 9 and March 31, 2013. The venue consists of 12 stages featuring live entertainment, an outdoor circus, a medieval arts and crafts fair and a jousting tournament with three performances each day.
Each afternoon at noon and again at 2:30 p.m., a Pleasure Feast is held; this is a five-course meal featuring entertainment that could be described as bawdy—which ensures that few if any children attend. While this is not your typical fine-dining experience by candlelight—seated as you are on a bench next to other festival-goers—it is one of the best opportunities you'll come across to be treated like royalty. Once you have dined, take a walk with your lady or squire to sample the wares brought by merchants of the artisan market and perhaps purchase a bauble or two.
To appreciate the full experience, you can even rent costumes to wear for the day to emphasize your royal status.