Food fit for a king
Come hungry to the Arizona Renaissance Festival—but save room for all the fun activities, too
by Glynis Fediuk —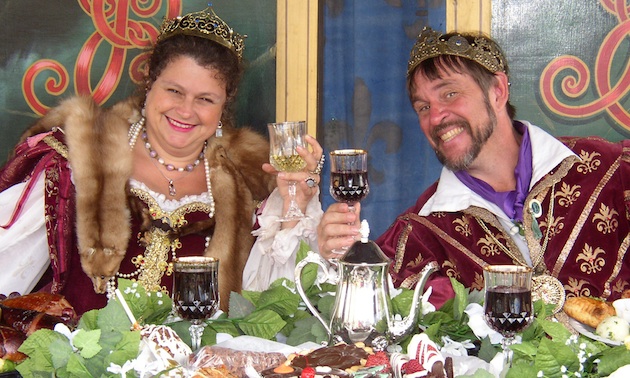 At the Annual Arizona Renaissance Festival and Artisan Marketplace, you'll eat like a king.
Food is a big part of this yearly festival, but it's not the only thing—here, you'll be treated to the full meal deal of medieval activities. From the marketplace to the Pleasure Feast, this is one attraction visitors to the Florence area won't want to miss. Jousting, live entertainment and vendors all make up this feudal faire; festival-goers are as likely to see a dancing gypsy troupe as they are a pair of knights battling.
At the artisan marketplace, there are literally hundreds of vendors selling their goods. Once you are done browsing the shops, head to the dozens of food stands.
The incredible variety of grub available in the marketplace will surprise visitors. Carnivores will find everything from roast turkey legs to meat pies. Looking for something vegetarian? There's veggie pizza, potatoes, fresh pretzels, Mediterranean fare and more. For dessert, choose anything from crepes to chocolate-dipped fruit. Fine wines, beers and spirits are available in the local pubs, and you'll find several places to pick up a coffee or non-alcoholic beverage. In total, there are more than a dozen different places to eat the the festival.
Foodies will enjoy indulging in the aptly named Pleasure Feast. This five-course meal treats diners to 90 minutes of entertainment as they eat. The Pleasure Feast requires an advance ticket, but also includes admission to the festival itself.
The Arizona Renaissance Festival is located about 30 minutes from Florence, in Apache Junction. It is open weekends from February 11 to April 1, 2012; read more about it here.