Top 5 bicycle trails in Arizona
In the Grand Canyon state you'll find plenty of places to ride
by Jackie Dishner —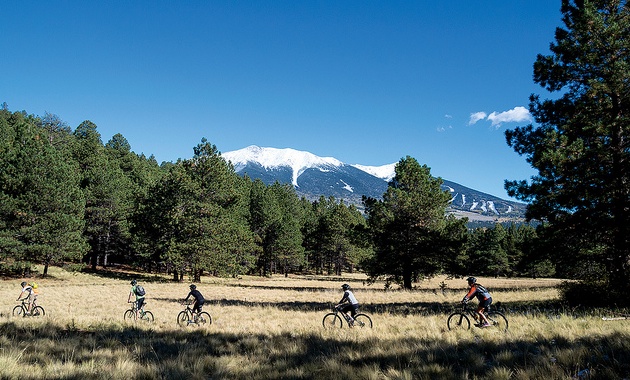 You've hauled your bicycle (or a pair of them) to Arizona on the back of your rig, and now you're ready to roll. In the Grand Canyon state you'll find plenty of places to ride, especially if you have a mountain bike which can handle the varied and tough terrain.
Flagstaff
This college town in the pines may be the first in Arizona to explore the now-popular fat tire bikes. Flagstaff Nordic Center, a year-round biking, skiing and hiking facility with more than 25 miles of groomed trails, just started renting Pugsley fat bikes. The size of the tires, at least three times the size of a normal mountain bike tire, makes these bikes able to handle all types of terrain, including mud and snow.
But since you probably prefer to ride your own bikes, grab the Flagstaff Urban Trails and Bikeways map at the visitor centre to locate appropriate trails. For a challenging ride in the high altitude, a portion of the 817 miles of the state's north-south Arizona Trail runs through Flagstaff. The single-track ride on a dirt trail takes you past a pine tree forest where you maneuver over rocky terrain before reaching views of Walnut Canyon and turning back.
http://www.flagstaffarizona.org
Greater Phoenix
A mountain bike mecca, Greater Phoenix includes trails at the Superstition Mountains, South Mountain and McDowell Mountain Regional Park with all the downhill, single-track fun a mountain biker prefers. But if you're not interested in pushing a bike through sand, climbing rock beds or dodging cactus plants and precarious ledges, smoother rides abound.
In Tempe, five miles of shared path along the Crosscut Canal passes through Papago Park, home to the Phoenix Zoo. And it's all paved, providing an easy, 10-mile (round trip) ride and great views of the valley's skyline. Worth seeing: Artist Mary Lucking's topographical map etched in concrete at the Mill Avenue entrance.
For the endurance rider, the Arizona Canal (part paved, part crushed granite) is a haven for walkers, joggers and bikers. It runs about 40 miles, from 75th Avenue on the west side of town to Granite Reef Dam on the east, with access points throughout. An added attraction: Salt River Project (SRP), the utility company that operates the historic canal system, restored the waterfalls and hydroelectric plant between 56th and 58th streets on Indian School Road, incorporating public art and adding a viewing platform.
http://www.srpnet.com/water/canals/azfalls.aspx
Just outside North Mountain Visitor Center west of 7th Street and south of Thunderbird Road, you can access some of the easier, flatter sections of Trail 100, a desert trail that traverses North Phoenix. Caution: this trail is located in a mountain preserve, the habitat of rattlesnakes and other desert critters.
http://www.northmountainvisitorcenter.org/
Prescott
Prescott's Mile-High Trail System offers more than 20 trails for mountain bikers. A favorite, and one of the few Rails to Trails projects in Arizona, is the Prescott Peavine National Recreation Trail. It follows the route of the old Santa Fe Railway constructed in 1893, and offers scenic views of the Granite Dells and Watson Lake. Push along an easy, flat path of crushed red granite for six miles and back. Spot waterfowll, cottonwoods and partial remains of the old railway. The trail is multi-use for bikers, hikers and horseback riders. Access the trail from the Granite Dells for free; otherwise, pay a $2 parking fee at the Peavine Trailhead off Prescott Lakes Parkway.
http://www.cityofprescott.net/services/parks/trails/
Sedona
With more than 170 miles of a mix of desert single track, slick rock, technical climbs, exposed rocky descents, easy loops, and warnings to stay on trail, Sedona is another top destination. To find the right trail for you, pick up a trail map at Absolute Bikes or ask where to ride at the Bike & Bean in the Village of Oak Creek. Hardcore riders may like to check out the newest bike shop in town, Over the Edge Sports, on West State Route 89A. Always a good choice: Bell Rock Pathway.
Tucson
Probably the number one biking destination in Arizona, both for road cyclists and mountain bikers, Tucson offers more than 300 miles of trails within its five mountain ranges. One of the most well-known: Lone Cactus Loop at Fantasy Island. It offers a fairly smooth—if quick and hilly—ride on dusty desert terrain that winds through State Trust land. If you've never been, Sonoran Desert Mountain Bicyclists offers to find a rider to go with you.
Jackie Dishner, author of Backroads & Byways of Arizona (The Countryman Press, 2010) writes and rides from Phoenix. One of her specialties is Arizona travel.