A haven for free spirits
Catch the big one, hike the trails and much more in Fernie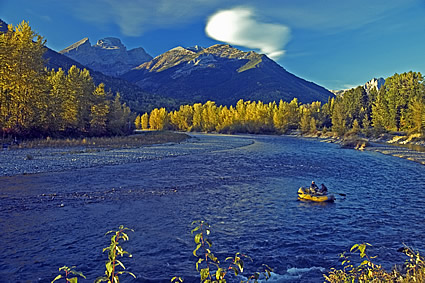 Fernie is becoming more attractive to visitors every season. The recreation industry here is booming, as more people learn about the many enticing spots to explore.
Excitement close to home
There are several places in close proximity to Fernie that will make your summer memorable. James White Park sits on the banks of the Elk River, and boasts everything from camping and fishing to tennis and baseball facilities. The nearby Montview Trail runs alongside the river, and is popular among bicyclists and hikers. From this trail you can also access Brewery Creek and Dogwood Trails.
A trip to Fernie would not be complete without spending time at Fernie Alpine Resort. The resort opens for summer operations on June 25, 2011, and there will be all kinds of activities available, including mountain biking, river rafting and scenic chairlift rides. There are also fabulous dining, accommodation and nightlife options available at the resort.
Provincial park paradise
Three kilometres south of Fernie on Highway 3, you will find Mount Fernie Provincial Park. Enjoy fishing in the Elk River or Lizard Creek, traverse the area on a mountain bike or on foot, or set up camp at one of the reservable campsites.
Also accessed on Highway 3, 16 kilometres southeast of Fernie, is Morrissey Provincial Park. This is a more primitive area with no designated picnic or day use areas, but the stunning scenery makes it worth a visit. You can also access the Elk River through this park. Tread lightly and observe the protected black cottonwood ecosystem.