Top things to see and do in Grande Prairie
You will have no trouble finding adventure in the Grande Prairie region
by Emilia Hovorka —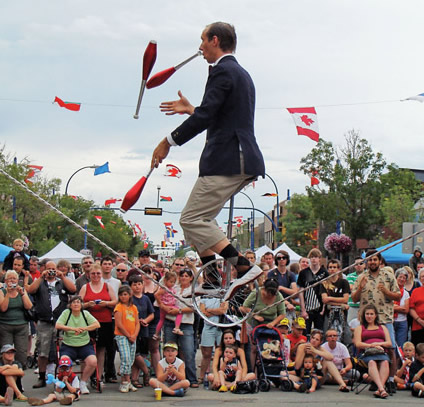 1. . .There's lots to do!
As one of Canada's fastest growing cities, Grande Prairie is a major trade and service centre for more than 300,000 people in the region. Regardless of the season, during your stay you will find opportunities for culture, entertainment, fine dining and recreation. The area's amazing variety of world-class activities includes just about any kind of outdoor pursuit you can think of, such as fishing, hunting and golfing—plus there are shops, art galleries and museums to explore.
The Grande Prairie region kicks off its summer event season with the Grande Prairie Stompede in late May. Bud Country Fever brings huge names in country music to Evergreen Park in early July. And it doesn't stop there – throughout the year there are tons more unique attractions and events that you don't want to miss.
2 . . . Camping and accommodations
There is no lack of choice for accommodation in the Grande Prairie region. Several full-service bed and breakfasts, hotels and motels and over 50 campgrounds are available for visitors. Accommodations range in amenities and price range, so there is something to suit everybody's needs—even if you have all three generations in tow!
The Grande Prairie region's campgrounds provide services and amenities from the very basic, rustic tent space to full service facilities, including electricity (15, 30 amps), water taps, indoor washrooms and heated showers, phone, coin laundry, concessions and recreational vehicle sanitary pump-outs. Some campgrounds provide firewood free of charge; for others, there may be firewood sold at a concession or a fee included as a surcharge on the campsite cost. Northern Alberta is presently free of Dutch Elm Disease. To continue to prevent this disease, visitors are asked not to bring firewood from other areas of Canada and the United States into northern Alberta.
In most provincial parks and recreation areas camping fees are paid by self-registration (cash or cheque). Reservations will be available online for Saskatoon Island, Young's Point and Historic Dunvegan Provincial parks. The core season for provincial parks and provincial recreation areas is usually from the Victoria Day long weekend in May until early October. The campgrounds in the Grande Prairie region include municipal and county operated provincial parks and recreation areas, and independent operators. Campground features such as boat launch sites, dock, beaches and swimming, fishing, hiking, sani dumps and cycling trails vary with the site location.
3 . . . It's easy to get here
Located 450 kilometres northwest of Edmonton, reach Grande Prairie by Highway 43, which is almost completely "four-laned" and fully paved. The gateway to virtually everywhere, the city is about 390 kilometres from Jasper and the Rocky Mountains. Grande Prairie is 100 kilometres east of the B.C. border, and is considered the last major stop on the Alberta to Alaska Highway. It is also an entry point for travellers heading to the Northwest Territories. The Grande Prairie Regional Airport receives flights from Edmonton, Calgary and Fort St. John making connections to destinations in the rest of Canada and the United States regularly.
While you are in our region, we want to extend a special invitation for you to get a taste of the Grande Prairie region.
Bison barbecues
Get a taste of our region by taking in a free bison barbecue with all the fixings. Barbecues are held every Wednesday, June through August from 4 p.m. to 6 p.m. at the Visitor Information Centre, at 11330 106 street, just off highway 43 in Grande Prairie.
The Grande Prairie Rotary Club's bus tours
Take in the Grande Prairie Rotary Club's free 1 ½ hour bus tour of the city and county that runs every Monday, Tuesday and Thursday evening, June through August. This award winning tour leaves at 7 p.m. sharp from the Visitor Information Centre.
Water sports
Enjoy a day of water skiing, paddling, or having fun on the beach at Young's Point, Williamson and Saskatoon Island Provincial Park and Musreau Lake PRA.
Picnics
Looking for somewhere to spend a special afternoon? Try a picnic along the Wapiti River at O'Brien Provincial Park, a walk in northern badlands at Kleskun Hill Natural Area, or take in amazing views of the Rocky Mountains from Saskatoon Mountain.
Fishing
Sturgeon Lake supports the region's largest year-round lake fishery, with access at both Young's Point and Williamson Provincial Park. At Two Lakes and Moonshine Lake Provincial Park, try your luck catching trout from shore, a non-motorized or electric boat or on the ice. If you prefer casting a line into flowing water, check the Iosegun River in Waskahigan PRA or the Kakwa River on the way to Two Lakes Provincial Park.
Programs
Saskatoon Island Provincial Park is the focal point for nature-based family programs. Throughout July and August, visitors can drop in to Saturday afternoon discovery activities or be entertained at an evening amphitheatre show. New programs are also being offered at Moonshine Lake and Young's Point so be sure to check park notice boards.
Events
Take in special events year-round including winter fun at Moonshine Lake on Family Day and Parks Day in July at Saskatoon Island. Saskatoon Island is also the place to be for the annual swan festival on April 25th and 26th.
Wildlife watching
The Grande Prairie region is home to an amazing variety of wildlife from waterfowl and songbirds to moose and beaver. Viewing platforms at Saskatoon Island and Young's Point Provincial Park are great places to experience thriving wetlands while self-guiding trails at Kleskun Hill Natural Area and Saskatoon Island explore the region's rare native prairie landscapes.
Hiking and mountain biking
Whether you prefer summer hiking and mountain biking or winter cross-country skiing and snowshoeing, trails await in all of our provincial parks.
The camping is fine in Athabasca
The town of Athabasca and the surrounding region are bursting with lively and exciting camping opportunities for you to discover and explore. The Athabasca region has many picturesque areas ideal for a relaxing vacation with your family, or to create your own personal adventure. Areas within the region of Athabasca blossom to life in the warm and breezy summer months to create some of the most stunning and dazzling camping areas within northern Alberta.
Located only 90 minutes from the city of Edmonton, Athabasca is a comfortable and hospitable town with many places for camping and other outdoor activities.
Whether you are a wilderness expert or you have never camped a day in your life, Athabasca has a wide variety of sites to choose from with different levels of service and amenities. Many of the camping areas in the region feature non-serviced campgrounds that come with picnic tables, fire pits, beaches and boat launches. Some of the campsites also have flush toilets, showers and well water available for public use to make your stay in the Athabasca area as enjoyable as possible. Many of the campgrounds have rentals available—ranging from small fishing boats to ATVs—to enhance your experience and to get the most fun out of your vacation.
Starry, starry nights
If spending the night underneath clear skies and billions of stars sounds like the ultimate getaway, the region of Athabasca is the place for you to visit.