Columbia Valley highlights
Summertime in B.C.'s Columbia Valley offers options to keep you fit, fed and having fun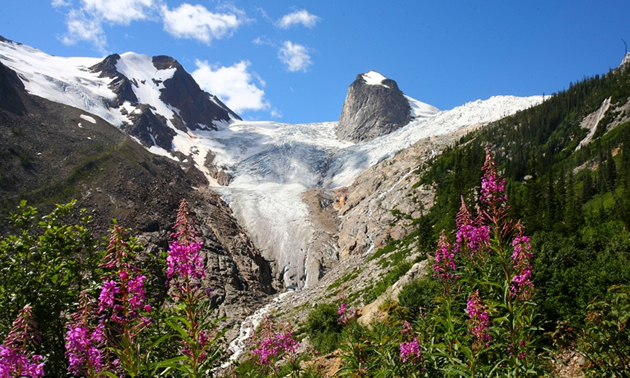 "We live down in Harrogate (B.C.), about halfway between Radium Hot Springs and Golden," said Pearl Busch. "I've been working at the Bighorn Meadows Resort for 15 years, and we actually joke that the drive from Harrogate to Radium is like driving through a wildlife park. I saw a bear yesterday morning, and we're always seeing deer and elk and wild turkeys. There's a flock of over 150 bighorn sheep that winters here, and we see them year round."
Adapting easily to the Columbia Valley
Busch is head of the housekeeping department at Bighorn Meadows Resort, and apparently she does a great job there—she was named Employee of the Year at the Columbia Valley Chamber of Commerce's 2013 Business Excellence Awards.
Busch and her husband moved to the Columbia Valley 16 years ago from Airdrie, Alberta. She used to be a long-distance truck driver, so driving 60 kilometres each way for work now is easy. In her free time, Busch enjoys baking and preserving. She sells her bread, butter tarts and canned goods at the farmers market that is held in Radium Hot Springs every Friday from the July long weekend to the Labour Day weekend. The farmers market sets up beside the visitor information centre, right along Highway 93/95, and is a great attraction for locals and visitors.
All that the valley has to offer
Busch said that if she were planning to spend a day in nearby Invermere, she might go to Fusion Wellness Spa for a massage, and to Quality Bakery to enjoy a bowl of soup and a baked treat, or she and her sister might take a picnic lunch to Kinsmen Beach—it's really pretty down there. Back in Radium Hot Springs, she might have dinner at one of her favourite restaurants.
"There's Back Country Jack's, Horsethief Creek Pub, Fire'd Up and Riko's—just a few of the dining spots I'd recommend," she said.
Busch said her husband likes to fish, and he has some favourite lakes near Parson and Spillimacheen; Lake Mitten and Three Islands are two of the lakes that he likes to throw a line in. The lakes are stocked, and apparently the rainbow trout reach about four pounds—big enough to give the fisher a satisfying fight.
Near Radium Hot Springs, Busch said, there are lots of hiking trails with beautiful views, and she often directs hikers to Redstreak Campground to enjoy the views along the trail. The highway pullouts going up the hill just south of town present some beautiful panoramas across the Columbia River valley.