Foraging for fun in Fairbanks, Alaska
Come to Fairbanks for more than just the northern lights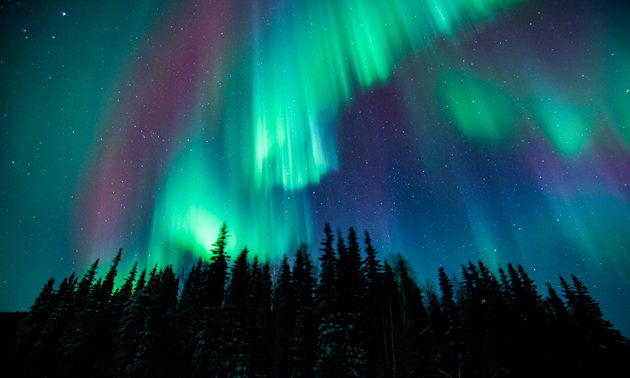 Fairbanks, Alaska, calls itself "The Golden Heart of Alaska." It's the largest city, with a population of close to 100,000 people, in the interior region of the state. The city has an army and air force base, its own university and its own brewing company. Whether you like to ride dog sleds, hike mountains, cross-country ski or explore historical sites, Fairbanks has something for you.
Close to Fairbanks's heart
Georgeson Botanical Gardens was originally established as a testing site for the American government to see how bountiful the soil is for growing food and resources. Since its start, the garden has grown into a beautiful space for tourists to come and view the elaborate flower displays and vegetable plots. Visitors to the gardens might also catch a glimpse of some ongoing plant testing and experiments.
Alaska Aurora Adventures offers amazing aurora borealis viewing. This Fairbanks family-run company takes visitors out to watch and photograph the borealis, in addition to heading out to see the Arctic Circle, running dog sledding and encouraging wildlife sightseeing.
The Alaska Railroad shuttles more than 500,000 passengers each year. Popular destinations along the route include the Chugach National Forest, Anchorage and Denali National Park and Preserve. The railroad offers a variety of services and excursion options, making it easy to customize your railroading experience.
The University of Alaska Museum of the North is home to over one million historical and natural history artifacts. The museum's permanent collection includes ethnological items made and used by Indigenous groups, Alaskan fine art, archaeological finds and paleontology specimens. This is the perfect stop for those wanting to channel their inner Indiana Jones. The Morris Thompson Cultural and Visitors Centre is another option for those wanting an insight into local culture.
Running Reindeer Ranch will thrill hikers and nature enthusiasts. Booking a tour with the ranch allows visitors to go on a hike with reindeer and join in their "reindeer games." The visits are educational, as Jane, the tour guide and co-owner, explains to hikers how the reindeer are adapted for Arctic living.
Found outside Fairbanks
North of Fairbanks is Chena River State Recreation Area. A day of hiking and rock-climbing at the famous Granite Tors awaits those who choose to visit. Dog teams and four-wheelers alike can carry visitors along trails across the 639 kilometres (397 square miles) of forests, rivers and alpine tundra that the area includes. Chena Hot Springs, a naturally fed hot springs, is open to guests of the resort and those wanting to come for a relaxing day of swimming. The pool is open from 7 a.m. to midnight and is between $13 to $15 per day for seniors and adults.
At the time of its closing, Gold Dredge 8 had extracted millions of ounces of gold from ground near Fairbanks. Gold Dredge 8 National Historic District became a national engineering landmark and in 1984 was opened for tours. The Binkley family has run a sternwheel attraction on the site for over 60 years and added gold mine tours in 1994. Their tours include opportunities to gold pan, ride a replica of the Tanana Valley Railroad or check out the Alaskan pipeline.
Visitors can take a step outside Fairbanks and visit the "real" North Pole. This town celebrates Christmas year-round, and their local post office gets bombarded with letters from children all over the world. The giant Santa Claus is perfect for a photo-op, and people seem to enjoy having their Christmas cards sent with the postmark "North Pole." There is more to the town than Santa Claus, however. Visitors should take time to explore Chena Lake Recreation Area for boating and swimming.
A quick detour to Delta Junction lets visitors check out the end (or beginning) of the Alaska Highway. Big Delta State Historical Park is a unique park that's run by local volunteers. The site is the location of an old stopping point between towns for travellers on their way to one of the bigger city centres (like Fairbanks or Valdez). Rika's Roadhouse Cafe and Gifts, the site's only store, has served visitors since the early 1900s. There are amenities and campsites for RVs on site, in addition to historical buildings that are open to tourists. The Sullivan Roadhouse Historical Museum is another place for history buffs to get their fill. Quartz Lake Alaska State Park is a natural marvel (and a must-see) for those wanting to spend some quality time outdoors.
For more information about Fairbanks and the surrounding area, visit its tourism website.