Fairbanks, Alaska should be on your bucket list
Fairbanks, Alaska boasts numerous attractions and outdoor opportunities and is one of the best places on earth to see the aurora borealis.
by Karen Kornelsen —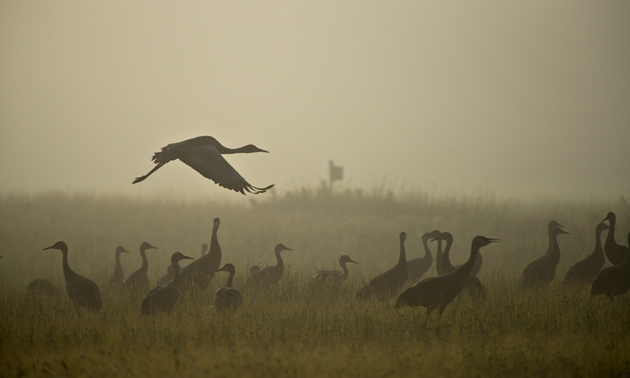 For some RVers, a trip to Alaska is something they long to cross off their bucket list. And for those who actually get to fulfill this dream, Fairbanks, Alaska, is one stop that should not be missed. With the sun shining nearly 24 hours a day in the summer, the opportunities are endless. From late August to April, visitors have the chance to see the incredible aurora borealis or northern lights.
Amy Geiger is the director of communications for Explore Fairbanks. She said the aurora borealis is one of two main reasons to come to Fairbanks.
"First of all, we are one of the best places on earth to see the aurora borealis," she said. "The aurora season starts August 22nd and goes through to April 22nd but you can see them year-round. Another main reason to come is in the summer we have 70 days of straight sunlight. So between May 17th and July 27th, the sun never sets. So you have the midnight sun in the summer and the aurora borealis for the majority of the year."
Fairbanks is also a very RV-friendly city with numerous RV parks and lots of parking lots to accommodate RVs. Geiger said the drive up from Canada is so spectacular, it should be added to people's bucket lists. She also advises visitors that there are seasonal activities like the Riverboat Discovery Tour, which does not operate in the winter.
"Dogsledding and ice sculpting are great things to do here in the wintertime," she said. "Fishing and hiking are great in the summer, along with all our numerous attractions, museums, easily accessible wilderness and outdoor opportunities as well as cultural and artistic opportunities."
Riverboat Discovery Tour
The Riverboat Discovery Tour is a unique Alaskan experience. The three-hour cruise takes you into the heart of Alaska. The tour will introduce you to a family that has made the rivers of Alaska a way of life for five generations. You will also see a bush floatplane take off alongside the boat, visit the home and kennels of the late four-time Iditarod winner Susan Butcher and see her champion sled dogs in action. You will also learn about the ancient Athabascan Indian culture with a tour of the Chena Indian Village. Winter in Fairbanks can see the temperature drop to 40 degrees below zero or more so check out the Alaska at 40 below experience, where you step into a designed sub-zero chamber—a unique experience. If all this adventure leaves you with an appetite, enjoy a meal at Steamboat Landing.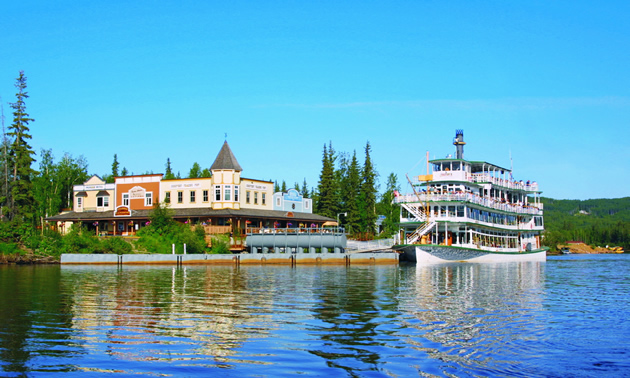 For more information, visit www.riverboatdiscovery.com.
Fountainhead Antique Auto Museum
If antique cars are your thing, or even if they're not, the Fountainhead Antique Auto Museum is the place to go. An entrepreneur from Fairbanks, Tim Cerny, began collecting the museum's 85-plus vehicles in 2007. He chose each car for its historical significance, technological innovations or rarity, according to the museum. You can see a Compound, Argonne, Argo Limousine, Columbia Mark XIX, McFarlan Type 125, Sheldon, Heine-Velox Victoria automobile or Hay motor vehicle, among many others. Several of Alaska's earliest cars are also on display, including the State's very first automobile, built in 1905 by a man who had never seen a car before. Remarkably, all but a few of the autos are driven each summer, making this a true "living museum."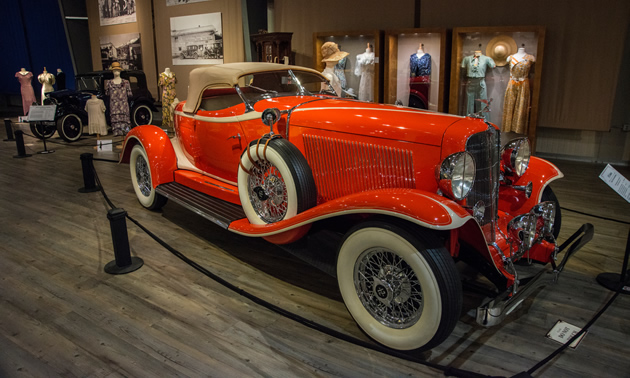 For more information, visit www.fountainheadmuseum.com.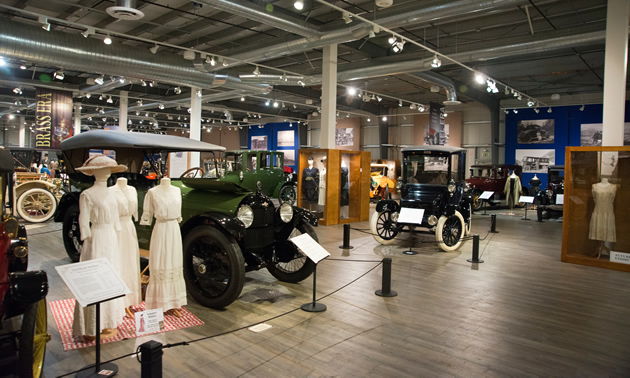 Gold Dredge 8
Fun for the whole family, Gold Dredge 8 is the place to learn about Alaska's gold mining history. You can look forward to a presentation on its construction and operation, then hop on board a replica of the narrow-gauge Tanana Valley Railroad and listen to stories of prospectors who arrived during the gold rush. The train will stop at Gold Dredge 8 where you will see how the dredge worked the gold fields and take a course on gold panning. Once you get back to camp, you can try gold panning for yourself.
For more information, visit www.golddredge8.com.
Pioneer Park
Pioneer Park is another gem in Fairbanks. It is located near downtown Fairbanks off Airport Way. This 44-acre park is home to numerous restaurants, museums, shops, arts and attractions, including minigolf. This is a great place for the whole family to explore — and it could take you more than just one day to see all it has to offer. Parking for self-contained RVs is $12 a night for a maximum of four consecutive nights. Potable water and restroom facilities are furnished, with a free dump station within half a block, but there are no hookups available. Reservations are not required, but you should register at the Riverboat Nenana upon arrival.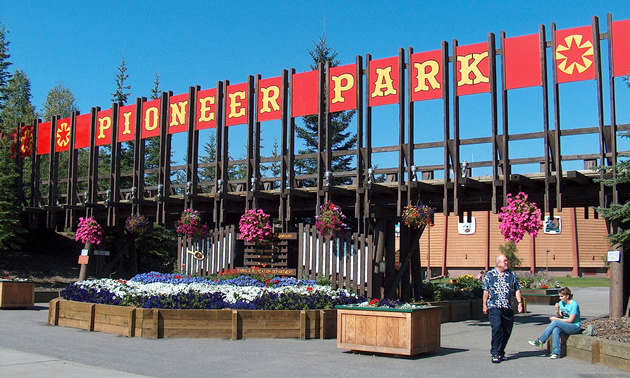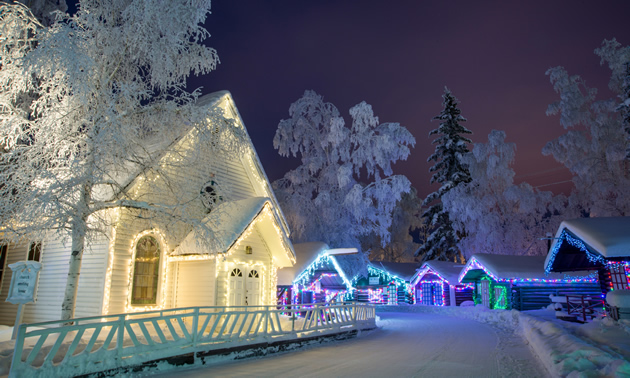 For more information, visit co.fairbanks.ak.us/pioneerpark.
Creamer's Field
The Creamer's Field Migratory Waterfowl Refuge is comprised of approximately 2,000 acres of fields, woods and wetlands in the Fairbanks North Star Borough. Friends of Creamer's Field is a community-based, non-profit organization dedicated to providing educational opportunities and family programs at the Creamer's Field Migratory Waterfowl Refuge. Volunteers staff the Farmhouse Visitor Center and provide guided nature walks and organized educational events throughout the year. The various habitats on the refuge offer homes for a diversity of animals. But the refuge's special role is for stopovers and summer use by migratory birds. Even though some birds such as Canada geese, northern pintail ducks and golden plovers stay for only a short time, they depend on Creamer's Refuge to feed and rest each spring and fall during their migration. Other birds such as sandhill cranes, northern shoveler ducks, and mallard ducks may remain the whole summer. Visitors enjoy excellent birdwatching spring through fall. The refuge is home for diverse mammals as well. Visitors frequently spot moose meandering through the forest, snowshoe hares nibbling on willows, red squirrels chattering or a red fox pouncing on a variety of voles living in the fields.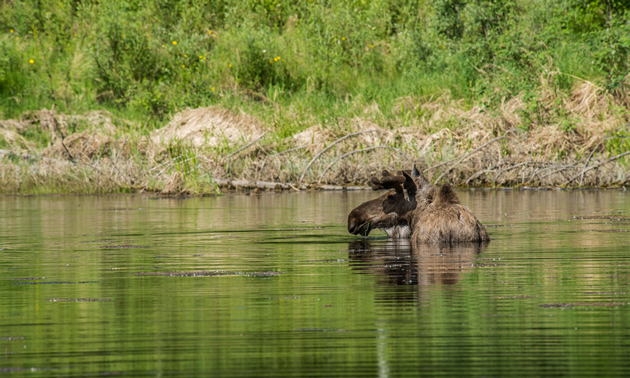 For more information, visit www.creamersfield.org.