A taste of Mexico's history
Make El Triunfo a part of your Baja tour experience
by Dan and Lisa Goy —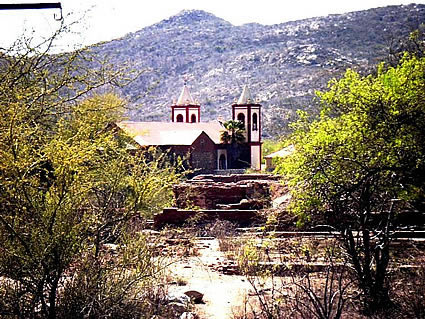 Many RVers who travel to Baja, Mexico, often pass by El Triunfo—a former mining town nestled in the Sierra de la Laguna on Mex 1. It is small, with a population of about 800, an unassuming town about four blocks long. In many ways the town has the feel of a turn of the century movie set, complete with heritage building facades, a two tone church, cobblestone streets and old smoke stacks. Snowbirds often drive through heading north to La Paz or south to San Jose Del Cabo. The town straddles Highway 1 and has made impressive strides in the past few years to attract more tourists, adding an excellent bakery and restaurant, and a very unique music museum that includes a concert pianist and locally made baskets. We have now put El Triunfo on our tour and the reviews have been great; it has become a must-stop.
Mining and culture
El Triunfo started as a cattle ranch in the early Jesuit period. Although silver was first discovered in the area in 1748, El Triunfo's claim to fame began when silver and gold was discovered in the 1860s and was consolidated with the arrival of the British El Progreso Mining Company in 1878. At one point the town's population grew to 10,000 making it the largest community in southern Baja.
The town was the first in Baja to install electricity and telephones and its cultural life included regular concerts and two competing weekly newspapers. Parts of the old mine installations can still be seen, including two massive chimney stacks: "Ramona" (designed by famous French engineer Gustave Eiffel) and "Julia," near to which mining machinery manufactured in Chicago and San Francisco has lain rusting and forgotten since the mines closed in 1926.
Stop for a bite
There is plenty of room to pull off the highway in town for any size of rig. Just follow the "Pizza" sign and before you know it you will be in the bakery. These sourdough loaves are oven fired and delicious (particularly the cranberry walnut) but don't stop there. Carry on through the storefront to the restaurant and outdoor patio out back with a great view of the mountains, Brick Bridge and smelter ruins. This is a great little restaurant and we encourage you to try the food. Then have a stroll around the abandoned smelter out back and imagine what this must have been like 100 years ago. The church is worth a visit, as is the shop where you can purchase many locally made handicrafts.
A visit to El Triunfo is not complete without a visit to the wonderful music museum. Once inside, you are greeted by Maestro Nicolas Carrillo Castro who personally conducts the tour of the museum. If you are fortunate, Sr. Castro will tickle the ivories for you, his flamboyant style will bring visions of a Mexican Liberace. As the largest city on Baja in the 1860s because of the gold rush, pianos were brought to El Triunfo from around the world and at one time El Triunfo had more pianos per capita than any other city in Mexico. Sitting in the audience as the Maestro is playing Beethoven and Bach on the Baldwin grand piano is truly an unforgettable experience. Enjoy!
For more information about Baja Amigos Caravan tours, visit their website.