Activities abound in Edson
Edson it more than just conveniently located—it also has lots to do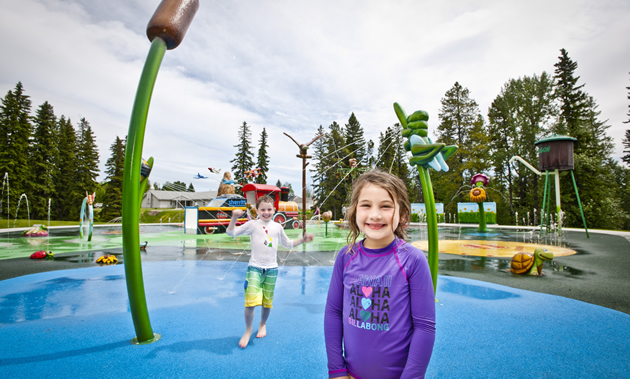 Edson, Alberta, should be more than just a stop en route. Its natural surroundings, friendly community and surprising attractions are worth taking a little time to discover. Outdoor adventures abound and children will find plenty to keep themselves busy.
There are a number of good campgrounds in and around Edson. Willmore Park is one option that, only five kilometres out of town, makes a good base. There is an abundance of relatively easy hiking trails in the park. For those who enjoy exploring on foot, Edson also has great trails, and parks within the town limits. A new feature in one of the parks makes a great summer option for families.
"We actually have a new spray park in Edson," said Shari McDowell, manager of the Galloway Station Museum and Travel Centre. "It opened last year and it's fabulous. It's in Kinsmen Park, which is close to the centre of town. There's a playground and area, as well as the spray park, and it's open every day throughout the summer."
Is it possible to get tired of playing in the great outdoors? Hopefully, because the Galloway Station Museum is also a highly recommended part of a visit to Edson. The building was, indeed, a railway station built in 1911. It now houses both the visitor centre and an engaging museum on local history.
"The museum opened in 2011," said McDowell. "But we have just installed our newest exhibit which is about Wilfrid May who landed in Edson during the first aerial police chase in Canadian history, which is pretty cool. So we have a re-creation of the plane and we tell the story. The museum really is quite large. We have a couple of grizzly bears, and a full-sized trapper's cabin in here. A lot of the displays include touchscreens and interactive (elements) specifically aimed at children. We don't really do the hands-off thing here—it's all touch and feel and play."
Catch Edson on the right week, and you may be able to enjoy Sundays in the Park, a free concert series. The town especially comes alive over the August long weekend when it hosts Canada's largest slo-pitch tournament. Regardless of when you pass through, it would be a shame to miss all that Edson has to offer.