Top things to see and do in Creston
This growing community has every reason to celebrate its artsy residents and lush landscape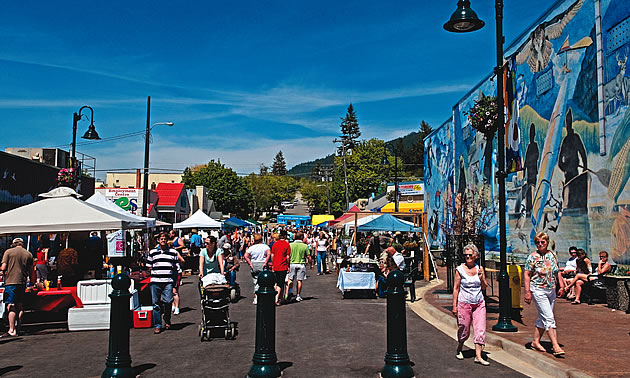 There is no shortage of fun in Creston; local festivities combine nicely with artistic talent and nearby wilderness areas to make an all-round pleasant destination. These are just a few of the many local highlights.
1) Wild wonders
If you ask the locals what to do first, one of the first places you will hear about is the Creston Valley Wildlife Management Area. This serene wetland sanctuary has educational displays, canoe tours and some of the most beautiful walking trails in B.C. See native wildlife such as turtles, migratory birds and even otters.
2) Bring on the blossoms
Perhaps the most famous festival in town, the Creston Valley Blossom Festival has been running annually for more than 70 years. Traditionally held on the Victoria Day long weekend, the festival includes multiple events taking place throughout town, such as a street fair, parades, a car show, cook-offs and more.
3) This brew is for you
The Columbia Brewery is a major point of pride in Creston, and you can take tours of the facility to see how the famous Kokanee and other brews are made. After the tour, you can stop at the Beer Gear store and pick up some Kokanee-themed merchandise.
4) The cream of the crop
With the Skimmerhorn Mountains in the background, the Blueberry Patch Country Market is a must for anyone wanting to shop for healthy local produce and handcrafted items. This quaint orchard has both u-pick and ready-picked strawberries and blueberries of the highest quality. The berries are grown without the use of toxic sprays—so you can safely bring the kids and let them pick their own harvest. Visit the Candy Cottage for old-fashioned treats, or sit down for a snack at the Blueberry Tea Room.
5) Off to the market
The Creston Valley Farmers Market is one of the most popular events in town. Every Saturday from May 5 to December 22, the locals bring their fresh fruits, herbs and vegetables, handmade crafts and food products, among other locally made items.