Love the wild
This wildlife area offers education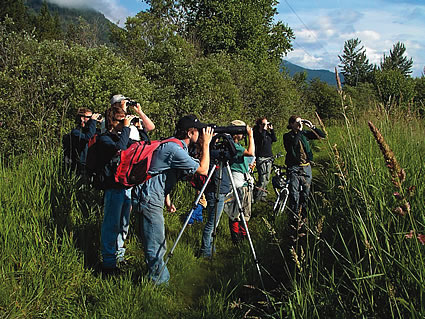 One of the most popular places in Creston, B.C., is the Creston Valley Wildlife Management Area.
Included in this vast wetland sanctuary is the Wildlife Interpretation Centre.
The centre allows visitors to take a hands-on approach and get familiar with local wildlife via educational programs and exhibits that appeal to all age groups.
Canoe tours are a regular activity that the centre provides, with naturalists available to teach participants about the flora and fauna that resides in this area. From ducks and turtles to majestic moose, you never know what you will see here.
Wetland wonders
View wildlife and watch the sun rise during the Sunrise Paddle, taking place every morning from 7 to 9 a.m., from July 10 to August 7, 2010.
Meet the nocturnal wildlife on the Moonlit Adventure evening walk on August 13, 2010, from 7:30 to 9:30 p.m.
For more information, visit www.crestonwildlife.ca or call 250-402-6908.