The top "FOUR!" links to golf in Cranbrook, B.C.
Bountiful sunshine makes Cranbrook's grass a little greener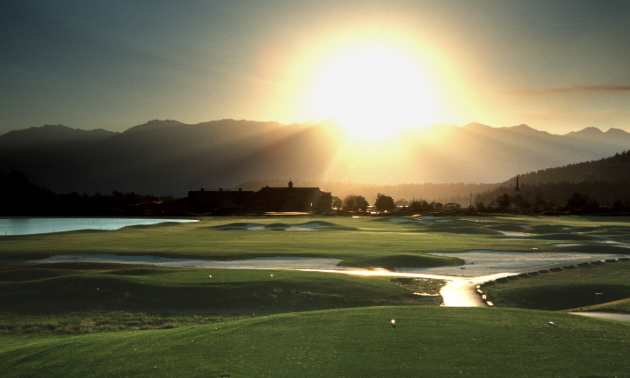 Cranbrook is a paradise for the outdoorsman. It's a splendid place to bike, hike, fish or—as you'll see below—golf. Nature is abundant in this East Kootenay locale. The city is surrounded by the Rocky Mountains, soaked in sunlight and inhabited by wild deer that aren't really wild. Get up close and personal with this picturesque setting this summer. At the same time, try to keep your ball on the fairway, eh? Those out of bounds critters can be awfully judgmental.
St. Eugene Golf Resort & Casino
St. Eugene Resort's central building used to be a Ktunaxa residential school. During the last two decades, the band developed a championship golf course, a casino, a 125-room hotel, an RV park and several restaurants on the property.
Golfers that visit St. Eugene will be treated to spectacular views of the St. Mary River and Fisher Peak. The championship course winds its way through open links and rolling woodlands.
Rates include 18 holes of play on a championship course, unlimited use of the practice facility and bottled water at the first tee.
St. Eugene Golf rates:
Midweek:
Primetime: $50-$70
Dew Buster: $35-$60
Twilight: $35-$55
Weekend:
Primetime: $75-$95
Dew Buster: $55-$85
Twilight: $45-$65
Electric power cart: $18
Mission Hills Golf Course is an executive par-3 golf course with spectacular scenery and 18 tricky holes. Mission Hills has a unique three-hole round for families and those who don't feel up for golfing a full round. Full practice facilities can also be utilized on-site.
After you've golfed enough to work up an appetite, take a break at Ruby's Back 9. The restaurant has a full range of culinary delights, classics, gluten-free options and a kid's menu. Dine inside or enjoy the view from outside on a wraparound deck.
The Wildstone Golf Course measures over 7,000 yards of golfing goodness. Set on the rolling highlands above Cranbrook, Wildstone showcases stunning postcard views of the Rocky Mountains from start to finish.
Wildstone's practice area is as exceptional and user friendly as the course itself. There is a large putting green, separate chipping green and extraordinary driving range. At over 350 yards long and 100 yards wide, the spacious elevated tee decks allow golfers to hone their games by shaping shots against a scenic Rocky Mountain background.
Wildstone Golf Course rates:
18 hole weekday (Mon-Thu): $65
18 hole weekend (Fri-Sun): $79
Twilight weekday (Mon-Thu): $45
Twilight weekend (Fri-Sun): $55
9 hole weekday (Mon-Thu): $35
9 hole weekend (Fri-Sun): $39
Carts and driving range:
18 hole powercart per rider: $18.5
9 hole powercart per rider: $10
Small bucket of balls: $4.5
Large bucket of balls: $9
Shadow Mountain Golf Club promises a truly memorable experience in nature. Over the course's 19 holes, you'll journey through pines, traverse rolling mountainous terrain and take in breathtaking scenery such as Fisher Peak, the Steeples and the Purcell mountain ranges. Shadow Mountain is a creative course with unsurpassed playability.
Find a selection of goods at the large pro shop and enjoy a drink at the Bear's Den Lounge.
Shadow Mountain Golf Club rates:
Regular: $88.59
Twilight (2 to 4 p.m.): $69.54
Twilight/replay: $60.02
9 hole rates (after 4 p.m. or as tee times permit): $50.50