Summer in the city RV park
Socializing is a welcome part of the job of managing Mount Baker RV Park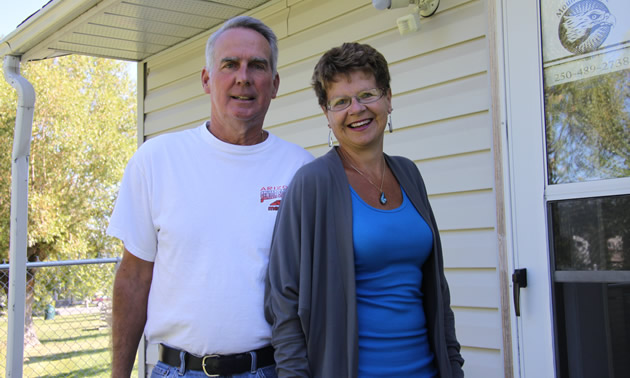 Seven months is a long time to work without a day off together, but Maxine and Don Bos have a very sociable kind of job. They have a contract to manage Mount Baker RV Park for the City of Cranbrook, B.C., and for the first summer in four years—other than subcontracting the work of keeping the campground's washrooms clean—the couple are going it alone.
"We will work very hard at finding the right couple to help us next summer," Don said, "because we do need some time off to visit family, golf, etc. It is a great area to spend the summer, so if you are interested, call us!"
The RV park is situated in the heart of Cranbrook, and is a three- to five-minute walk from the Safeway or the local recreational complex. Rotary Trail, a walking and cycling trail, runs through the park, and cable TV hookups and Wi-Fi are available.
The work arrangement
A typical workday for the couple starts at 7:30 a.m. and ends at around 11:30 p.m. The revenue from the park is theirs except for a percentage that goes to the City. The Boses are responsible for the upkeep of the park—cutting the grass, maintaining the flower beds, deciding what needs to be done—and paying for it all. The City takes care of big issues like problems with the water and the electrical system, as well as unusual cleanup situations such as trees downed by storms.
"The (July 20th) storm brought just one tree down," Maxine said, "and it landed between a motorhome and a fifth wheel—nothing was damaged and nobody was hurt. The City had to remove that tree and two more that were at risk of falling."
Mount Baker RV Park has 63 sites, 45 of which are serviced; six of those are permanently occupied, so the Boses have a few full-time neighbours. Managing the park is a great fit for the couple because both engage easily with people and get a lot of enjoyment from meeting so many visitors. They themselves live in a motorhome at the park.
What they like best
"We have a lot of repeat customers," said Don, "and after four years, we consider all of them our friends. We take pride in being a friendly, family-oriented RV park. People want to feel at home, and we do whatever we can to make them feel that way."
"It's a joy to see people enjoying their lifestyle, whether it's a vacation or full time," Maxine added.
Some of the couple's favourite repeat visitors include young athletes who attend sports camps in Cranbrook for hockey and lacrosse. This gives the Boses the opportunity to share in the growing-up years for many families—something they both value.
Originally from farming families near Edmonton, Alberta, the Boses moved to Cranbrook in 2006 and took on the park management contract four years ago. Their own extended families are frequent visitors to Mount Baker RV Park as well as to the park in Mesa, Arizona, where the couple spend their winters, unwinding after a very busy summer.
"If we'd known how this management job would turn out, we probably would have done it sooner," Maxine said. "We always look forward to coming back in the spring."