Top things to see and do in Christina Lake
Tranquil waters, sandy beaches and skilled artisans make for a well-rounded RVing destination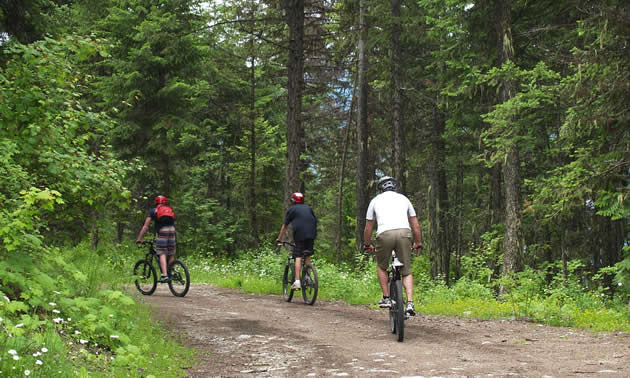 Lakeside communities are always enticing to recreationists, but Christina Lake is especially appealing due to the artistic talent of its residents. Here are some of the tourism draws that you might want to explore.
1) Indulge your artistic side
The brand new eco-friendly Christina Living Arts Centre is situated in the community park, and it houses the local visitors centre as well as an artisan studio and gallery. From the centre's convenient location, you can easily access the trails or head to the beach after you have finished perusing the local art creations and gathering interpretive information about the region. This centre has made an enormous impact on Christina Lake's tourism.
2) Hike Cascade Gorge Trail
Cascade Gorge Trail is a five-kilometre hiking and cycling route that is suitable for all ability levels. Bring the family on a stroll along the old Kettle Valley Railway bed, and cross over two Canadian Pacific Railway trestle bridges, which are restored and have guardrails. This path is now part of the Trans Canada Trail network.
3) See the nature park
Christina Lake's Community Nature Park is a sublime natural sanctuary that offers recreation opportunities in all four seasons. There are plenty of places to hike, bike, picnic and view the wildlife—such as birds, rabbits, turtles, otters and other indigenous animals. Walk along Blue Heron Trail and you might just come across an active beaver lodge somewhere along Christina Creek. Be sure to bring your camera.
4) Putter along
The Christina Lake Golf Club offers stay-and-play packages for RVers who camp at their sites. Try a challenging yet fun-to-play 18-hole course surrounded by all the natural beauty one might expect in Christina Lake. The Kettle River flows near by and you can see the Monashee and Selkirk mountains in the background. This facility also has the distinction of being the first golf course in Canada to have black sand trap features.
5) Tour on horseback
Owl Mountain Ranch has some fun in store for visitors of all ages. Young children can enjoy pony rides, and older children and adults can take one of the scenic horseback tours that take riders through forests, along rocky slopes and beside pleasant beaches.