Exciting events in Camrose are a shutterbug's dream
by Karen Kornelsen —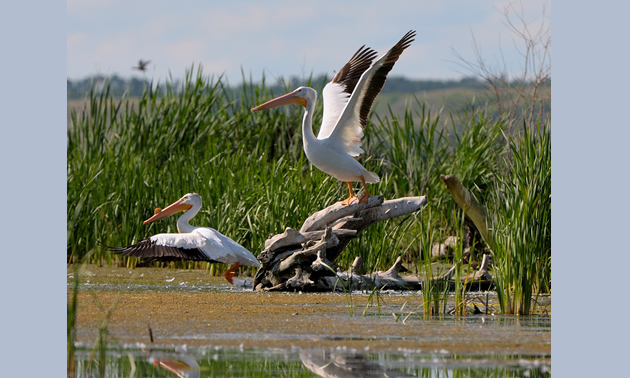 The city of Camrose, Alberta, has a lot to offer any tourist. From dining and nightlife to golf and outdoor adventures, there is something to do for everyone. This central Alberta town is home to over 17,000 people and is also home of the Big Valley Jamboree, Canada's largest outdoor country and western festival. From the incredible park system to amazing events such as the Jamboree, taking photos here is a photographer's dream.
Sean and Lisel Mascaluk, owners of S and L Photography in Camrose, grew up in this great city and are experts on where to go to get the best photos.
"It is such a special location," said Lisel. "There are just so many different areas you can travel to. We love just hopping in our camper and getting out to take pictures of wildlife, scenery and people. There are so many cool areas where people can go and have a lot of fun."
RVwest sat down with the couple to find out exactly where these places are.
Urban park trail system in Camrose
Location
Throughout Camrose
Photo op
"The city of Camrose has invested quite a lot into its park system, from the ski hill area to Jubilee Park to Mirror Lake," said Sean. "They have a paved trail system and bridges that connect all these great places. It's amazing. It's a photographer's dream with all the different kinds of trees and types of scenery. Camrose is also famous for their swans on local lakes."
Sean and Lisel not only take advantage of the park system for their photography business, but find it's a great place to get out with the family. Sean said always bring your camera, because you never know what you will see.
Photo tips
It's always harder to shoot when the sun is at its highest peak in the sky. Sean's favourite time to shoot is a couple hours before or after sunrise and sunset. For people photos, he recommends taking a flash with you.
Dried Meat Lake
Location
Seven kilometres south of Camrose
Photo op
Sean and Lisel very much enjoy taking their family out to Dried Meat Lake near Camrose for camping and fishing. Lisel's photography strengths lie in birds, flowers and scenery and she is usually the one sitting at the front of the boat, capturing the beauty around them while her husband and three boys fish. An amazing thing to photograph on this lake are the pelicans that flock here.
Photo tips
"You have to sneak up on the birds, be quiet and forever vigilant," said Lisel. "You have to take your time getting up to them. You also definitely need a tripod, because you need a steady shot—which can be hard to do in a boat. The other big thing is patience. It's not uncommon for us to spend a long afternoon slowly drifting towards them. "
Events in Camrose
Location
City of Camrose, year-round
Photo op
Sean's favourite type of photography focuses on people, therefore all the amazing events in Camrose do not disappoint. From the Camrose Cruiser's annual car show to the Big Valley Jamboree, there are numerous opportunities for great shots.
Photo tips
Sean advises shutterbugs to be personable. Don't be afraid to approach people. He said the majority of people enjoy getting their pictures taken, as long as you are honest and up front with them. A great example is the Camrose Cruisers car show.
"Most people stand back and take a picture," said Sean. "Instead, go up and talk to the person about their vehicle. Most people really enjoy talking about what they're doing. Don't be shy. The best shots I've taken have been after talking to an owner of a fancy vehicle and they point out to me something interesting about it. You always want your picture to tell a story. That's what it's all about."