Discover the valley of roses
Camrose in Alberta is a destination not to be missed, with diverse history and charm
by Lisa Crane —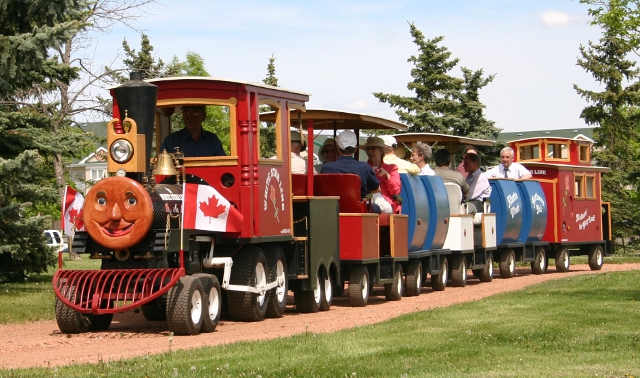 Once you discover what Camrose has to offer, you will never want to leave. The community is named after Camrose in Dyfed, Wales; the Welsh meaning of the word is crooked moor and valley of roses.
This dynamic city is known for its people. Hazel Cail, co-ordinator of Tourism Camrose, said that everyone always comments on how friendly the people are, no matter where you are or what you are doing.
Cail said Camrose was first known as the Hamlet of Stoney Creek in 1904 and then the Village of Sparling in 1905. The area in and around the present city of Camrose was once the traditional home of the Cree and a centre for the fur trade. To get a grasp of the heritage of the area, Cail said the two museums are very good interpretive centres. The Camrose Railway Museum and Park, and the Camrose and District Centennial Museum are just waiting to take you on a trip into the past.
The oldest theatre in Alberta, the Bailey Theatre, is in Camrose, and visitors can enjoy a tour. It is also possible to visit the very first store established in the town.
"Duncan Sampson came from Little Current on Manitoulan Island, Ontario," said Cail. "In May 1904, he erected a small store with his dwelling upstairs, and this store—after being moved to the first townsite of his choice—is still in use today on that site, as an art gallery and frame shop."
Must-do experiences
When you explore Camrose, there is certainly a must-do list, according to Cail.
"Younger children and adults love to ride our little Mirror Lake Express Train, hand-built by a local resident," said Cail. " It is 92 feet long and carries 22 passengers per trip."
Cail said that for walkers, runners, bikers and skiers, there is over 21 kilometres of paved and shale walking trails along the Stoney Creek Valley. Visitors will discover trumpeter swans and Polish mutes making Mirror Lake, which lies in the centre of the city, their breeding ground and home in the summer months. The signage around Mirror Lake describes some of the history.
Big-city attractions
"We have state-of-the-art sports facilities and host provincial, national and international events," said Cail. "For a city our size, we are very fortunate to have a large casino plus a full-degree university."
Camrose has a beautiful municipal 18-hole golf course right in town, Cail said, and 18 others within less than an hour from the city. She said two golf courses—Silver Creek Golf Course and Whistle Stop Golf Course—are within 10 minutes of Camrose and have fully serviced camping and RV lots.
The Camrose Railway Station is 100 years old and was a great influence on the early settlement of Camrose, known as the Railway City. The station hosts events, stories and storytellers, and the gardens have a historical theme.
"They are splendid and rival any public garden in Alberta for beauty," said Cail.
For Cail, the city of Camrose is just the right size.
"We are dynamic and sophisticated," she said, "yet small enough to still have that warmhearted glad-you-could-make-it-back community feeling."