A grandmother's guide to RVing central Alberta in style
Look for campgrounds or RV parks with paved paths
by Stephanie Warner —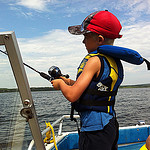 Duane and Mary-Ellen Albers are semi-retired farmers in central Alberta's Wetaskiwin county who love to take their 23-foot Westwind trailer out to a nearby RV park or campground any chance they get. And more often than not they are joined by kids and grandkids. They have five grandchildren, with a sixth on the way any day now.
Sometimes they're joined by Lorne and Connie Swedberg, who live on a farm near Meeting Creek, a half-hour from Camrose, Alberta, and use a 30-foot Brookside fifth wheel for their camping getaways. Connie and Duane are brother and sister, and the Swedbergs also have five grandchildren, so when they all get together it brings the camping-with-kids experience up to a whole new level.
"It's an opportunity to relive the old camping traditions you enjoyed with your kids, now with the grandkids," Connie said. The Swedbergs sometimes have four generations camping together.
"It's a wonderful bonding time for all of us, from great-grandma down to the youngest granddaughter," she said.
Some special memories from Connie's years of family camping include "the excitement on a six-year-old grandson's face when he catches a 'keeper,' especially when it's a bigger fish than his dad caught; boating, knee-boarding and wake-boarding with father, sons and grandsons taking part; a cuddle with your grandchild around the campfire at night.
"And don't forget s'mores!" she said.
Grandma's wisdom
Mary-Ellen had some great practical advice for grandparents spending time with the grandkids in their home-away-from-home RV.
"Pack your totes full of the stuff they like to play with," she said. She recommends including items for both indoor and outdoor play so the kids can be kept busy no matter what the weather.
Indoor items might include colouring books, activity books and CDs—her grandkids are especially fond of participating in action songs. For outdoor play, she likes to bring kids' versions of bocce, horseshoes and the like.
"Take the bikes," she said, adding that she likes to use the opportunity to "train the kids in bicycle etiquette." She also recommended looking for campgrounds or RV parks with paved paths, which make outings with younger children that much more enjoyable.
At Gull Lake, a favourite camping destination for both families, Mary-Ellen said you can bike from one campground to the next; if your grandkids are older and up to the challenge you can even bike to the small town of Bentley, a somewhat hilly eight kilometres or so away, which has an agricultural fair and parade in August that her grandkids have enjoyed in the past. This year, the Bentley & District Agricultural Society is offering several free activities for kids—face painting and a magic show on August 8 and laser tag on August 10.
Mary-Ellen especially likes Gull Lake for its shallow, warm waters—great for the small fry—and for its well-kept, sandy beaches. This lake, an easy drive from such central Alberta communities as Camrose, Wetaskiwin, Red Deer and Lacombe, has a number of beaches, including a very popular one at Aspen Beach Provincial Park, as well as Lakeside and Brewers Beach.
Wise grandparents might also look for campgrounds with playground equipment and a concession stand, she said.
Mary-Ellen also suggests using plastic totes with tight-fitting lids for storing the kids' stuff in order to keep the sand and the rain out. And speaking of sand, she advises using the campground showers as much as possible so you don't use up all the water in your RV, and also to avoid the little ones tracking the inevitable sand into the RV.
Around the campsite
She said that if you plan on doing a lot of camping with grandkids, an RV with bunk beds and pop-outs—creating that extra bit of space—can make all the difference.
Both families enjoy cooking together at the campsite.
"The men do all the barbecuing on Papa's big Camp Chef stove," Connie said. "Everyone pitches in with salads, etc. There's nothing like a barbecue full of Alberta Angus beef steaks!"
And grandmas are not above spoiling the grandkids, just a little bit. Connie (Nana to the grandchildren) stocks the Swedberg RV with the single-serve cereals the grandkids love.
"They especially like the sugary kind they're not allowed to have back home," she said.
No wonder she often wakes to the sound of little voices outside her RV door.