Cycle your way through taste tours in Campbell River and the Comox Valley
We love to showcase our region and the interesting people and gourmet food we have here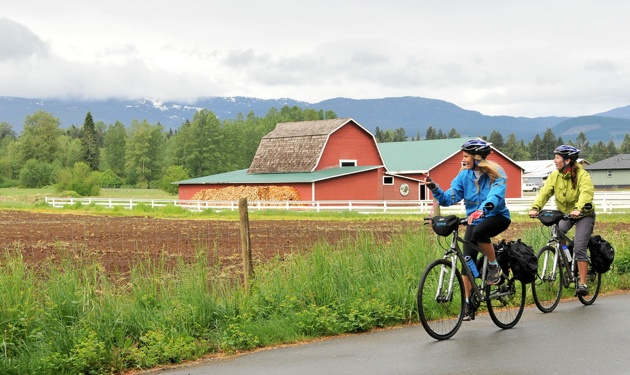 Laurel Cronk, co-owner of Island Joy Rides, said the company was inspired to combine the love of cycling with the unique flavours found only in northern Vancouver Island.
"We love to showcase our region and the interesting people and gourmet food we have here," she said.
Riders can take a multi-day scenic ride through the Comox Valley, Campbell River and Quadra Island on the company's signature West Coast Foodie tour, or spend the weekend or even just a day exploring West Coast wines and gourmet snacks in the same area or on Denman and Hornby Islands.
Every tour includes stops at wineries, farmers' markets or local artisan shops, and many keep travellers active with kayaking, beach yoga and exploration options. Multi-day tours include a cultural element that truly makes the experience one of a kind.
"The tours include a picnic on the beach made with local ingredients and showcase some favourite places to eat," said Cronk. "On the West Coast Foodie tour, we work with a First Nations group to host a canoe paddle and seaside First Nations and West Coast fusion feast with salmon on an open fire, wine and white linen."
Island Joy Rides also takes travellers on one-day excursions for just a taste of what the region has to offer. Chocolate by Bike visits rolling farmland and delightful handmade chocolate treats at Hot Chocolates in Courtenay, and the Wine and Farm Cycle Tour is an afternoon of fine wines and family-run farms, not to mention a gourmet picnic.
"This area has so much," said Cronk. "We have tours for families, children, parties or corporate events. There are some amazing places with some great views and beautiful settings."
Blue Moon Winery
Succulent berries and tasty fruit wines await at Blue Moon Winery, a favourite stop on Island Joy Ride tours. Marla Limousin owns the winery with her husband George Ehrler, and said the all-fruit winery will also be adding some ciders this fall.
"Ours are dry to off-dry wines, not sweet fruit wines," said Limousin. "They are very food friendly."
The winery also offers patio refreshers and dessert/apertif wines to linger with after a feast.
Nature's Way Farm
Limousin and Ehrler also run Nature's Way Farm—a small but sweet organic farm near the winery with blueberries, strawberries, raspberries and a selection of seasonal vegetable crops.
"People often come to the tasting room and then visit the farm stand for produce and other B.C. made items like beeswax candles, chocolates, jams and jellies," said Limousin. "We also make in-season preserves like drunken plums and pears in wine."
Visitors are free to wander the vineyards or take in a presentation like Wine Tasting 101 or How to Get the Best Out of Your Wine. Private group events can enjoy cooking classes and tastings in the Blue Moon Kitchen.
"On Sundays we have Art and Wine shows featuring local artists and Perfect Pairing presentations where people can taste the wine, meet the artist and wander the grounds," she said.
Hot Chocolates and Cake Bread Artisan Bakery
Speaking of pairings, what goes better with wine and fruit than decadent chocolate treats? Hot Chocolates tempts Island Joy Riders with artisan chocolates that are handcrafted, hand-dipped and decorated on site, said the store's Melissa McLachlan.
"The best way to enjoy everything from our shop is … slowly," she said. "We create everything with your pleasure in mind—texture, complexity and depth of flavour, richness—to ensure each bite is an experience for your palate."
Hot Chocolates shares its space in Courtenay with a full-service cappuccino bar and Cake Bread Artisan Bakery, where a vast array of organic artisan breads and rich pastry treats is waiting.
"We recommend any of our signature truffles or housemade gelato," said McLachlan. "For a specific tasting experience we highly recommend our sea salt caramel. Dipped in pure Belgian chocolate, the layered vanilla caramel simply melts on the tongue, its flavour amplified by the Maldon sea salt that tops the creation. It's an absolute must-try!"