Beaches and more in Black Creek, B.C.
This peaceful little community is surrounded by beaches and other points of interest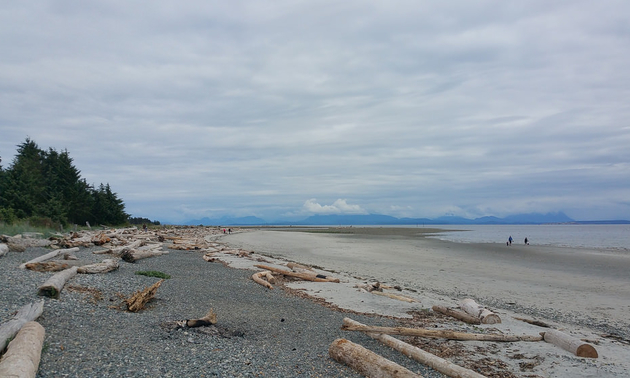 Black Creek is a cozy agricultural community tucked away between Campbell River and Courtenay on the east side of Vancouver Island. There are extensive beaches and other attractions close by, so you won't be short on things to see and do.
Miracle Beach Provincial Park
Explore rich tide pools and take photos worthy of framing at
Miracle Beach Provincial Park
. Just a short drive from Black Creek, this park has private and group camping areas with ample space, and a vast sandy beach to lounge on while you listen to the ocean waves. There is a playground for the kids, lush forest hiking trails, hot showers and a sizeable picnic area that overlooks the water. In June, the park hosts non-competitive annual sandcastle-building events, and you can see some terrific sculptures created by local beachgoers.
Low tide reveals a wide variety of marine life, but please be careful to respect this delicate ecosystem (look but don't touch). Reservations for the campsite are in high demand, so be sure to book your spot as early as possible.
Saratoga Beach
Another popular spot to catch some sun is
Saratoga Beach.
It extends for more than two kilometres (one mile) along the Strait of Georgia, so you can walk along the beach to your heart's content. Low tide is exciting here, with plenty of creatures to photograph and shallow water to wade through. Due to the slow currents and warm water, this is one of the nicest places for RVing families to take a swim during the summer months.
The Oyster River Salmon Hatchery
Situated near Campbell River, the Oyster River Salmon Hatchery presents an educational opportunity for people of all ages. Run by volunteers from the
Oyster River Enhancement Society (ORES)
, the hatchery is open to the public on Tuesdays bn;. from 8 a.m. to 2 p.m. It is suggested that visitors contact ORES prior to their visit—you may even be able to arrange a guided tour. What you see depends on when you decide to go. Pink salmon will be spawning from August to October, chinook in September and October, chum in October and November, and coho from October to December. You may also get the chance to see steelhead and cutthroat trout during your visit.
Saratoga Speedway
The
Saratoga Speedway
, located right in Black Creek, is another option for family entertainment. Kids will be thrilled when they hear there are go-kart rentals available. Anyone seven years and over can ride on their own, and kids under seven can cruise around the 0.6-kilometre (3/8-mile) oval track for free (and must be accompanied by an adult, of course). All safety gear is supplied, such as helmets and goggles. To find out more information about seasonal hours or other details, please phone 250-337-5024.
The youngsters can also go on a monster truck ride for only $15 per person.
In addition, the speedway schedule is packed full of speedway events for adults. One of the most popular activities here is auto cross, a controlled driving exercise with a solo participant that tests their skill on a 0.6-kilometre (3/8-mile) oval or on a one-kilometre (5/8-mile) motorcycle/drag racing course. You can sign up to take any safe car onto the track and see how quickly you can get around the track without hitting the strategically placed cones. They change up the course every time they host a new event, so it never gets boring.
Wild and exciting tours
Perhaps you'd like to get a closer look at the ocean wildlife. If so,
Grey Wolf Expeditions
can take you on a tour that will give you goosebumps.
The Orca Base Camp Tour in Johnstone Strait is a four-day experience with daily fishing, kayaking and wildlife-viewing opportunities. The base camp's proximity to the Robson Bight Ecological Reserve gives participants an excellent chance to see orcas in their natural habitat (from a respectful distance). You may also see dolphins, porpoises, humpback whales, sea lions, eagles and bears.
The Discovery Islands Expedition is a five-day excursion. Kayakers will venture to the Discovery Islands (located between Campbell River and the mainland of B.C.), camping along the way at sublime wilderness sites. The tour includes all required gear, knowledgeable guides and rave-worthy meals.
The Wild West Tour is ideal if you desire a shorter tour. This three-day option will take you north of Campbell River to pristine Quadra Island, giving you a relaxing sea kayaking and camping experience.
If you're planning a trip with your gal pals, consider the company's new Women Only Kayak Retreat. You need at least five people in your group to book this retreat, but it's not exactly a hard sell. It involves a weekend of camping, sea kayaking, meditation, healthy eating and yoga at the picturesque and private Johnstone Strait base camp.
Day tours are also available.