Calgary's blossoming botanical scene
Reader Rock Garden was one of the first significant gardens in Western Canada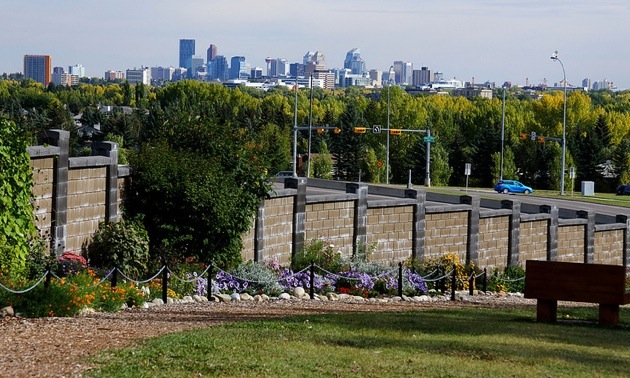 Silver Springs Botanical Garden volunteer Tom Mayhew has been working to weed out rumours that Alberta is nothing but barren prairie and bald mountains.
"A lot of (our members) are from Calgary and we were tired of the rap that nothing grows here, and we're trying to change it," he said.
Mayhew makes a strong case: Calgary is home to many beautiful gardens, including the internationally-acclaimed Reader Rock Garden, the Calgary Zoo Garden of Life and the downtown Devonian Gardens.
Reader Rock Garden
In 1913 William Roland Reader, city superintendent of parks and cemeteries, established three acres of experimental gardens below the Union Cemetery as a complement to the cottage that the city had provided to him and his family.
Throughout the 1920s, 30s and 40s, Reader collected plants and successfully grew more than 4,000 different species in his garden, making it an internationally-acclaimed exhibition of the gardening potential of the foothills region. Today the garden is still home to some of his original plants, and is open to the public as a Provincial Historic Resource.
According to Calgary Parks education co-ordinator Jenn Makar, the Reader garden is a must-see in June.
"There's always something blooming," she said, highlighting the Himalayan blue poppy, which Reader added to his roster of plants in 1936 after it was exhibited for the first time in 1928.
Calgary Zoo Garden of Life
The Calgary Zoo Garden of Life specializes in the educational display of plants used around the world for food, medicine and the production of utilitarian materials.
Gardener Boyd Nave said that the garden structure was damaged by last year's knee-deep influx of flood water, but "the flooding for the plants for the most part was actually positive." The garden sustains a 10,000 square foot collection of plants used by people with what Nave says is "the most complex (renewable energy) system in Calgary."
Plants range from the recognizable, such as banana trees, to others that may not be as easy for less-travelled eyes to identify—such as the soursop.
"If you open up a soursop, inside it actually looks like zombie flesh," said Nave. "It's white, gelatinous, and it actually looks hideous, but it's my favourite fruit. It tastes almost like gummy bears."
Some of the plants also provide food for thought. By way of a special permit, Nave obtained a mahogany tree, which is an endangered species after being highly sought-after by previous generations.
"What we have here is that awareness of how closely we're tied to the plants in the world," said Nave. "We have all of these things that are part of people's daily lives… and I think in a lot of cases they don't realize it until they're gone."
Devonian Gardens
If you work up an appetite learning about ethnobotany amid the Garden of Life's fruit and spice-bearing plants, head to the Core Shopping Centre. Just a few paces away from the food court you'll find the crown jewel of Calgary's downtown core: the Devonian Gardens, an urban oasis.
Originally created in 1977, the two-and-a-half acre gardens recently underwent a multimillion dollar refresh and reopened to the public in 2012. According to Makar, the garden features an expansive living wall, as well as some 40-year-old pom-pom ficus topiaries that are the product of one Florida man's impressive forward-thinking.
"The gentleman who was growing these actually decided 40 years ago that this is what he was going to do, so he started trimming them at a very early age to get them to look like this," said Makar.
Makar said that the staff of the Devonian Gardens maintain the shape of the trees by turning them to ensure that they get an even amount of light on each side. Their strategy? The potted trees sit on top of golf balls and then a second pot.
In these gardens visitors can play the pond-side piano, take little ones to the playground and on a mobile app-based scavenger hunt, or just play the role of the wallflower in one of the many nooks and crannies.
Botanical Garden of Silver Springs
As the largest city in Alberta and one of the largest in the country, Calgary has a lot of space—and a lot of community groups working to beautify it.
The Botanical Garden of Silver Springs offers several themed gardens including the Shakespeare & Sandstone Gardens, which adds an Elizabethan atmosphere to evergreens, shrubs and garden beds through the placement of small statues and Shakespeare quotes for flowers, herbs, shrubs and trees.
According to Mayhew, this community garden initiative got started when a couple of neighbours decided to beautify a sound barrier wall that parallels their properties.
"The people that lived here were tired of looking at the wall, so they planted some trees and some shrubs, and then a neighbour further up got the idea, so he did some, and then the two groups got together and started planting in between," he said. "The next thing you know the whole wall became shrubs and perennials and we've been developing further down.
"It just keeps getting bigger and bigger."