Raise your eyes to the skies
Keep an eagle eye out for birds of prey at the Morley Nelson Snake River Birds of Prey National Conservation Area
by Glynis Fediuk —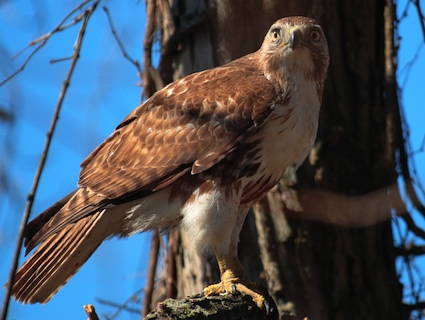 The owl has been associated with wisdom for thousands of years. The bald eagle is the national bird of the United States. Think of a vulture—do you think of death or of resourcefulness? It is clear that birds of prey have a special place in the hearts and minds of many. The Morley Nelson Snake River Birds of Prey National Conservation Area (NCA) is a place where many of these majestic creatures make their home.
Falcons and owls and hawks—oh my
John Doremus is the president of the Snake River Raptor Volunteers, a group that educates people about the NCA. Members of the group also work to improve the habitat for the raptors, through efforts such as assembling nest platforms and planting trees and native shrubs.
"The Snake River Canyon's sediments and basalt flows (have) many nooks and crannies where birds can nest," said Doremus. "On the flats above, there's lots of aeolian soils—soils that were blown in by the wind. It's very rich, deep soil, so the shrubs and native grasses grew well, so the ground squirrels and jackrabbits were abundant, providing prey for many of the raptors."
Doremus said red-tailed hawks and northern harriers are the most commonly spotted raptors, while the Townsend's ground squirrel is a commonly seen mammal. There are 16 nesting raptor species in the NCA, and an additional eight migrating visitors. The NCA is also notable for the large number of badgers in the area; in total, more than 250 animal species can be seen here.
Find out more about the Morley Nelson Snake River Birds of Prey National Conservation Area's raptor species here