Discovering Bisbee
Take a visit to this charming town, you will not be disappointed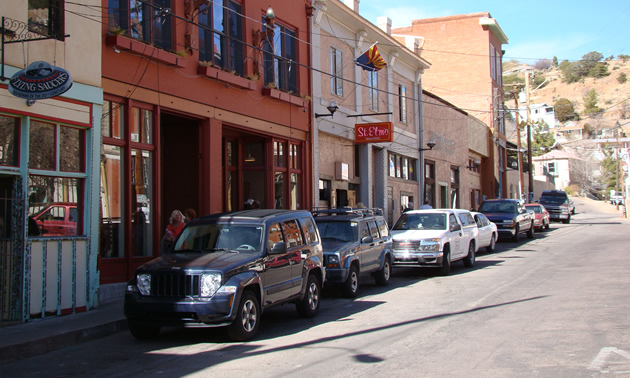 As snowbirds, my wife and I had often heard that Bisbee was worth visiting but we never seemed to find the time. After finally making our way to this historical mining town, we can hardly wait to return. Bisbee is located 90 miles southeast of Tucson. This picturesque little town of 7,000 is located in the Mule Mountains and the seat of Cochise County. Three disasters helped shape this community. The first occurred in 1908 when the town burned down—what you see today are buildings of the reconstructed town. Then in 1917, the Phelps Dodge Corporation—in an effort to prevent the workers from forming a union—illegally shipped 1,186 miners to New Mexico. The third disaster, was the boom and bust nature of mining, for when the mine closed in 1975, hundreds of miners were thrown out of work.
It was U.S. Army scouts in 1880 who first discovered minerals in the Mule Mountains while looking for Apache renegades. Miners flocked to the area, as Bisbee quickly grew to 20,000 people and incorporated in 1902. Judge DeWitt Bisbee, a financial backer to the Copper Queen Mine, gave the town its name. As a mining community, the town had the usual merchants, even its own stock exchange, but was more famous for its saloons on Brewery Gulch and its brothels. In the early years, Bisbee was called Queen of Copper Camps and, like Tombstone only a few miles away, was typical of the towns in the "Wild West."
The Phelps Dodge Corporation was very successful. Three million ounces of gold, 102 million ounces of silver, eight billion pounds of copper and other minerals were taken from the mine. Bisbee blue turquoise is still very popular in jewelry making. As the minerals were depleted, the Copper Queen Mine and the Lavender Pit (open pit mine) were closed in 1975. Today the Copper Queen Mine remains open for tourists. The 1800s train ride into the mountain illustrates how mining was done and is well worth the admission. Hard hats and lanterns are provided. For more information on mining, visit the Bisbee Mining and Historical Museum.
When the mines closed, Bisbee had to reinvent itself in order to survive. Today, the town is described as "quirky" and is a haven for artists with numerous art galleries, antique stores, artisan shops and jewelry stores. The artist's community has helped preserve Bisbee's architectural and historical heritage. One of the best ways to experience this town is a guided walking tour. The guided tour goes 10 kilometres through the narrow streets, steep stairways and Victorian style buildings. One very different building is the Cochise County Courthouse with its unique art deco architecture. Legend has it that the ghost of Judge John Ross, who died in 1945, still roams the hallways. If you want more ghost experiences, sign up for the Old Bisbee Ghost Tour.