Benson's flavours are off the rails
This Arizona town is known for its trains, caves and flavours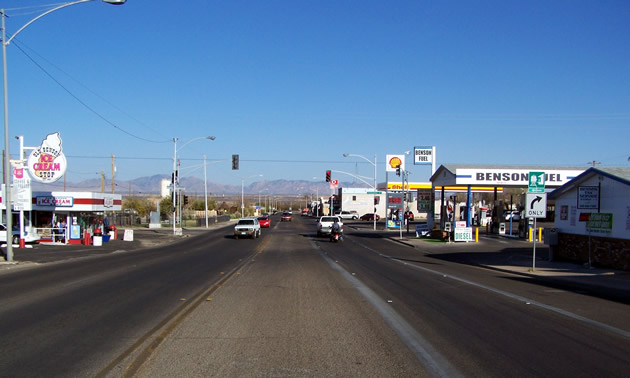 Benson is a western Cochise County town located 45 minutes east of Tucson. It was founded in 1880 as a railway terminal by the Southern Pacific Railway. While the most notable attraction in the area is Kartchner Caverns State Park, Benson shouldn't be ignored on the food and flavour front.
The Old Benson Ice Cream Shop has been a city staple for over 15 years. In a town that is slowly changing, this is one constant staple for locals or visitors who like to come back year after year. The specialties include Frozen Mocha coffee, vanilla milkshakes, and mint or pumpkin pie ice cream. The shop uses locally roasted coffee from Lynx Coffee to create their coffee-infused frozen treats and hot coffee beverages. This place also sports a juice and smoothie bar, and sells frozen yogurt too. It's open every day from 11 a.m. to 8:30 p.m.
Wild Dogs has several different types of Vienna Beef hot dogs, hot sandwiches and hamburgers. It is locally owned and operated, and has also been a Benson must-visit for the community and visitors alike. Some of its specialties include Sonoran Dogs, corn dogs and brisket. Pudding is complimentary after every meal and is the perfect finish. The shop offers vegan options too. Wild Dogs is open Tuesday to Saturday from 11 a.m. to 7 p.m.
A historic mainstay, Arena Bar has been around for over 30 years. Situated on 3.9 hectares (9.6 acres) of land, this "hometown" bar has the best local atmosphere in Benson. The bar hosts rodeos and dances for the whole town to enjoy throughout the year and has a grandstand, outdoor bar and snack shack open during public events. Friday and Sunday nights feature a singing bartender as entertainment.
The farmers market on Fry Boulevard in Sierra Vista is worth the 30-minute drive from Benson. Local farms, as well as several vendors and food trucks from Tucson, make an appearance here weekly. Open every Thursday from 10 a.m. until 2 p.m., the market features the usual farmers market goods (think soap, tea, handmade goods, organic produce) but also supplies its visitors with some curiosities like rare gems and teal emu eggs.
If you're hungry for a look at the stars instead of fresh ice cream and farm-grown veggies, Benson has that too. The Vega-Bray Observatory and Planetarium caters to the town's visitors, while the Butterfield RV Resort Observatory serves up night-time adventure for its RVers. The Vega-Bray Observatory is the home of eight telescopes that range from (put metric first) six to 20 inches in diameter. It also has an astronomy museum to enhance your learning.
The Butterfield RV Resort Observatory puts on nightly shows for RV park guests. Visitors can sign up at the front office to enjoy an evening full of star-gazing and educational jokes. The park uses a Meade LX-200 GPS (metric first) 16-inch Schmidt-Cassegrain telescope for the shows.
Benson has flavour in the historical and outdoor adventure sense too, so if you're planning on this place for your next vacation, be sure to check out the visitor centre once you arrive. You'll be able to receive helpful information and try your hand at operating a virtual train model.
For more information about the town of Benson, visit its website.