Top things to see and do in 100 Mile House
This South Cariboo community has both indoor and outdoor attractions for RVers to enjoy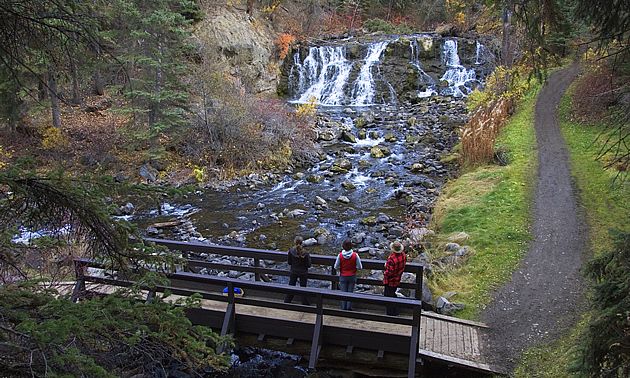 When you visit 100 Mile House, you will find yourself surrounded by natural beauty and a relaxed, small-town atmosphere. Here are a few things you can see and do while you're there.
1.) Take a picturesque stroll
Centennial Park is an ideal place to bring the family and have a picnic. You can also take a leisurely walk to Bridge Creek Falls, a scenic area located 1.5 kilometres from the park.
2.) Go birdwatching at 100 Mile Marsh
This small wetland area, situated behind the tourist information centre, attracts flocks of waterfowl and other birds. There is an interpretive path with viewing benches and a picnic area, and you can also see some historic artifacts and an authentic First Nations teepee.
3.) Try your luck at gold panning
Find out what life was like back in the gold rush days. At the local Nugget Gulch Prospecting Company, guests can try gold panning and get to keep whatever they find. For more information, call 250-395-4242.
4.) Take a dogsledding tour
100 Mile House is a terrific place to go dogsledding in the winter. The SnoSibe Sled Dog Ranch offers one-hour, full- and half-day tours with their team of gentle Siberian huskies. To book a tour or get more information, call 250-706-9575.
5.) Peruse the local artwork
At Parkside Art Gallery and Gift Shop, you can see and purchase some impressive local art pieces. The shop carries a wide selection, from woodwork to jewellery and everything in between.