RV Care Network hosted their first National Dealers Meeting in Toronto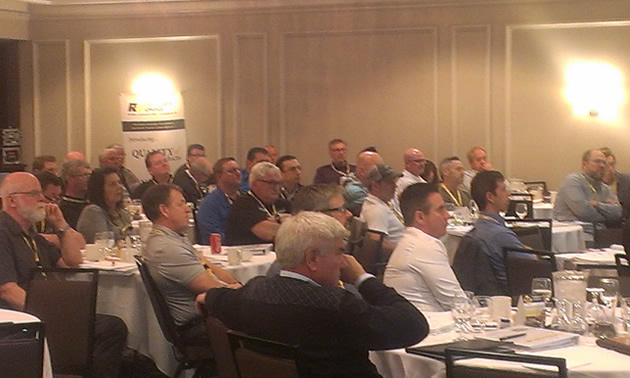 The RV Care Network hosted their first National Dealers Meeting earlier this week in Toronto, Ontario. With close to 100% dealer attendance and full support from partner suppliers, the meeting was a significant "Turning Point" for Canada's national network. The dealers confirmed full support for new marketing strategies that will continue to grow the RV Care brand, along with their proprietary brands "RV Traveler's Choice" and "RV Care Approved".
Participation from the networks' partner suppliers featured a unique panel discussion about changes in the RV industry with corporate leaders from Dometic/Atwood Mobile, Industrial Alliance/SAL Group/VAG, Keystone Automotive Canada and Wells Fargo Capital Finance Canada. "Working with our selected suppliers as "partners" is a key principle within RV Care. It creates unique opportunities for us to learn from each other and build stronger relationships." stated Bill Redmond, President of the RV Care Network.
Corey Ruzicka, Executive VP of the Priority RV Network, reinforced the alliance that provides RV Care customers with the support of over 110 Priority RV locations when they travel throughout the USA – in addition to the 61 RV Care locations across Canada. This alliance provides traveling RV Care and RV Priority RV customers with the valuable peace of mind of having exclusive access to the largest RV service network in North America when they travel.
A special guest appearance by Ron MacLean, popular CBC TV sports commentator, ended the event, sending everyone home looking forward to a strong selling season and the second RV Care National Dealer Meeting.
"The feedback we received from everyone attending the "Turning Point" meeting confirms we have all the ingredients for a strong future for the RV Care dealers and our partners." stated network Vice President and GM, Earl Manning.
RV Care is Canada's largest network of top independent RV dealers, with 61 locations from Vancouver Island to St John's, Newfoundland. For more information about RV Care visit www.rvcare.ca or contact [email protected]