A sign that it was meant to be
by Kimberly Shellborn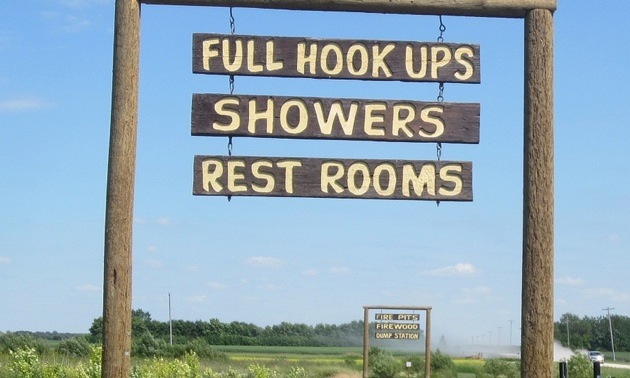 There are moments in life when you see an unmistakable sign. This happened to Sheri and Dennis Crockatt, owners of the Rubber Ducky Resort near Warren, Manitoba.
They were taking their own RV vacation near Casa Grande, Arizona, when they saw the sign. Next to a campground closeout sale sign stood four 14-foot-high signs describing the amenities of the closing campground.
The were astonished to see that that each of the six different sections of the signs perfectly described the amenities of their own campground. It was clearly meant to be—these rustic signs simply had to make the journey back from Casa Grande, Arizona, to Warren, Manitoba.
"We just happened to be looking in the right direction at the right time. And once we read them, we knew that these signs weren't destined for the junk yard. We had just the home for them," said Sheri.
Taking them home was not an easy task. There were 12 sections, each about nine feet long and standing 14 feet tall. The sections got loaded into the Crockatt's camper and trailer and took the 3000 kilometre trip home to Rubber Ducky Resort and Campground, where they proudly stand today.
There are some signs that you just can't ignore.