Lorraine and Carl Wilson travel the West Coast
From Victoria down to Palm Springs
by Kimberly Schoenberger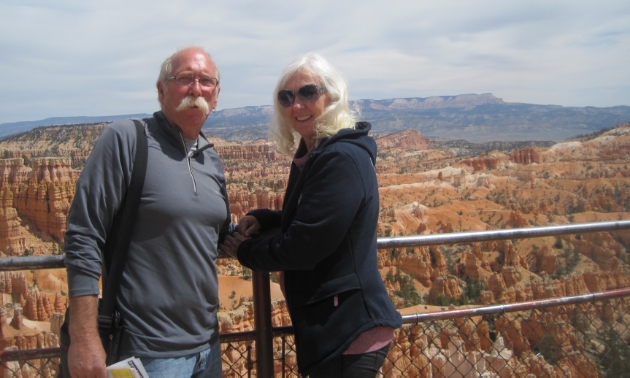 Lorraine and Carl Wilson are retirees living in the beautiful city of Victoria—when they aren't travelling, anyway. Now in their third year of retirement, the couple decided that 2014 was going to be the year that they made their biggest RV trek yet—all the way from Vancouver Island down to Palm Springs and back again. The two have been camping for a large portion of their lives and both say that their favourite thing is to keep travelling and experiencing new things.
"We like to keep moving—so far, at least," Lorraine said, "and not sit anywhere for more than three or four days."
It was that very attitude that drove the two to make their journey of more than 4,000 kilometres in just over a month, stopping at 20 unique destinations on the way.
"We left March 31 and got home May 5. We went with another couple (who were) also on their first trip south in a fifth wheel. It was terrific," she said. "We planned most of it in advance, but had about nine days at the beginning and a week on the way home to be spontaneous."
Stagecoach Music Festival
Though the trip had many exciting stops, the Wilsons' main goal was to hit the Stagecoach festival in Indio, California—the country music counterpart to the famous Coachella festival. Attendance for Stagecoach is over 50,000 people.
"It's just mind boggling," Lorraine said. "It's one of the biggest festivals anywhere, one of the top five in the world. They had three stages: the main one where you could stand at the front, then there were seats and roped off areas—but there were also these great big walkways that let you get through the crowd pretty easily. We bought seats near the front, so we were seated most of the time."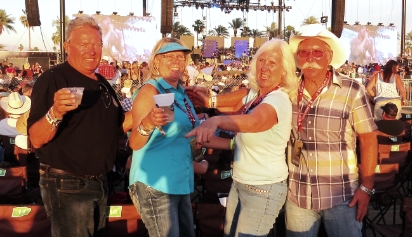 The festival is full of performances by country music's top artists, such as Luke Bryan, Jason Aldean and Eric Church, as well as by classic country artists and some relatively unknown newbies. Lorraine said the staggered schedule made it so that they didn't have to miss a moment.
"You could go in between the stages," she said, "and the way they did it is that the shows were staggered, so you could see a half hour or 45 minutes of one, not the whole show, but then you could go the the next stage and catch some of the next show without missing out."
Trip highlights
Lorraine said that while the music festival was their primary destination, the places they visited and the people they met along the way were what really made the trip amazing.
"We stayed at so many great campsites along the way," she said. "We met so many RVers going both directions, with advice and tips."
Two of the stops that the couple recalled as some of their favourites were riding the dunes at the Oregon Coast and sightseeing at the Grand Canyon.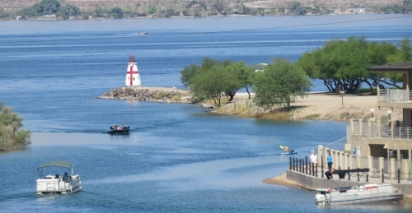 "We hit the dunes for some rides in the sand on the Oregon coast," Lorraine said. "It scared and thrilled us to the extreme, but we loved it. And there were elk greeting us in the park campground at the Grand Canyon—which was so amazing. Photos don't prepare you to be so amazed."
Fifth wheel no. 3
The trailer they made the trip in is not the first fifth wheel the couple has owned, but Lorraine said it's certainly the biggest.
"It's about 31 feet to the end of the tongue, a 2008 Prowler that we bought new," she said. "It's very roomy, lots of storage, and when we pull over we can get to the fridge, washroom, kitchen and bedroom with the slide still in."
Lorraine said that she and Carl prefer using a trailer to an RV, as it allows them more freedom when they want to explore on their travels.
"We love being able to unhook at a campsite and have our truck to get to sightseeing and shopping," she said. "My husband is great at driving it and parking, but I haven't learned all that, so our travel time depends on his energy."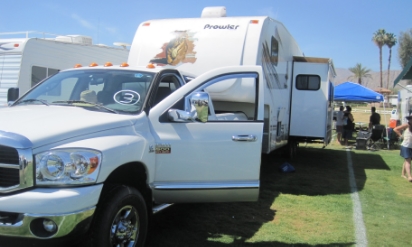 Advice from experience
This may be their first long trip with their trailer, but Lorraine and Carl have been travelling and camping for as long as they can remember. And from their experiences, they've learned a fair share of tricks of the trade.
"Have a plan, check routes that are accessible for big units and roads that may be closed," said Lorraine. "Near Grand Canyon the lady we booked with in the park told us about Highway 89 being washed out the year before. That meant a new route to Bryce Canyon was required."
Another tip that Lorraine offered was to use a service called Passport America—a discount RV park card that gets campers discounts at nearly 2,000 parks across Canada and the U.S.
"Passport America rates made lots of wonderful RV parks more affordable," she said. "We also found American casinos to have fee camping or great RV parks and met lots of other travellers there.
"We would also tell others that Reno isn't worth it anymore. Very tired campgrounds and city," said Lorraine. "Laughlin is nice. We lucked into an outdoor concert in Laughlin and saw Rascal Flatts for $45!"
Coming up next
So now that their first big trip is complete, what's next for this travelling couple?
"We hope to cross Canada next spring," said Lorraine. "Before that, we are heading back to the Watershed festival at the Gorge in Washington at the end of this month with three other units, stopping at Wenatchee Lake on the way and a Mariners game on the way back."