Welcome to One Under Urban Golf Club
This virtual reality indoor golf course sets a new standard for the game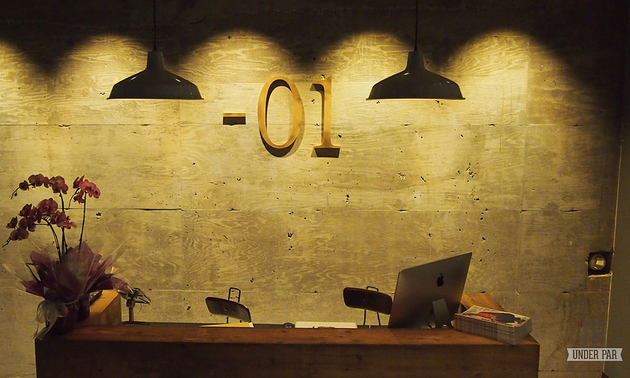 A common axiom is that business and golf are often synonymous. Many business deals are worked out over 18 holes, rather than in the boardroom.
The problem arises when the rain arrives and many golf courses are closed for the winter. The solution, other than catching a flight to Palm Springs, is the One Under Urban Golf Club located in the heart of the financial district of downtown Vancouver. One Under is located at 476 Granville Street, three blocks north of the Pacific Centre Mall, near the corner of West Pender and Granville.
Of course this is a virtual reality indoor golf course, being only 5,000 square feet in size. One Under is in the basement of the heritage Rogers Building, built by Jonathan Rogers in 1911. Look for the sandwich board on the street and take the ornate staircase to the basement.
Owner and managing director, Jay Young, took his inspiration from a similar club in London, England, opening for business in 2014.
One Under claims that this is the "….new standard for golf….providing a unique venue for lunch, dinner and meeting friends and colleagues."
Young described his business as "where casual dining meets the world of golf," which is an apt description.
Try out the golf simulators
A golf simulator looks like a big 9 x 12-foot television screen, made by H.D. Golf (High Definition) from Vaughan, Ontario.
Each simulator is worth approximately $50,000. Four high-speed cameras, using Computer Vision Technology (CVT) track the flight of the ball. The three-dimensional modelling refers to the 20,000 high-resolution digital photos, combined with satellite and geophysical data to produce an image that is realistic, colourful and three-dimensional. A computer also provides other useful information on club head speed, ball speed, club face angle, ball flight, spin, distance off the tee and yards remaining to the hole.
It is important that you DO NOT bring your own clubs, as new Taylor Made M2 clubs, left and right, are provided. There is a world-wide selection of 24 first-class golf courses to select from, including Pebble Beach, St. Andrews Old Course, Banff Springs and Nicholas North in Whistler. All the courses are painted on a wall map of the world to help you make your selection.
Professional tool simulators are also used by professional golf instructors, because the screens provide instant feedback and precise measurement. Golfers on the LPGA/PGA Tours use the simulators to work on their setup, swing path and ball flight. Some of the touring pros include Amy Alott, Louis Oosthuszen and two-time Masters Champion Bubba Watson, who has a high-definition simulator in his house.
Everyone welcome
One Under is not only for low-handicap golfers who want to experience a famous course, but everyone is welcome, especially non-golfers. Keep in mind that One Under has good food including Italian pizza, sandwiches, a cocktail bar and plenty of craft beer. Like any sports bar, 60-inch television screens line the walls with multiple games. At the centre of attention, however, are the large simulation screens that are programmed for various games requiring little golfing skills and meant only to be fun.
Some of the games include Field Goal Challenge, Window Smash, Golf Darts, Tic-Tac-Toe and other traditional golfing favourites like K.P's/L.D.'s.
The inexpensive way to golf
Golf is a very expensive game, but at One Under the idea is that up to 10 people can share an Executive Bay at $50 an hour for the entire group.
The larger VIP 1911 Room/Bay is $75. That makes golfing very reasonable for a large group. On Sunday and Mondays, the cost of renting a simulator is half-price. Golf at One Under is about "less," meaning it takes less time to play and is less expensive and less intimidating than a real golf course. Get your golfing buddies together, gather your business associates or consider this venue for your next company tournament.