Silent surge protection for automatic transfer switches
Submitted by Progressive Dynamics —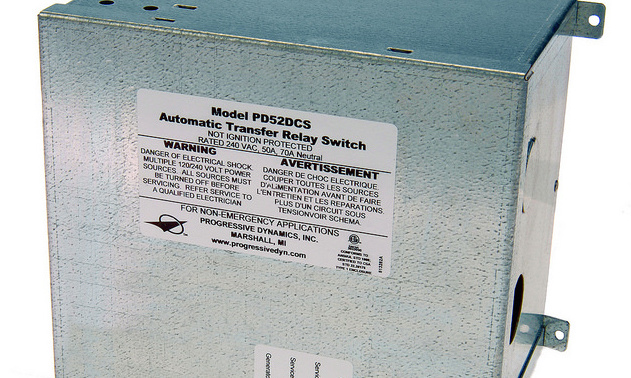 Progressive Dynamics Inc. offers model PD52DCS automatic transfer switches with silent surge protection, which protect expensive RV electronics from damaging power surges, open neutral and reverse polarity. The PD52DCS offers a DC coil which eliminates buzzing during operation and incorporates over-voltage surge protection of 3,300 joules at 103,000 amps, which is the highest in the industry.
These automatic transfer switches also feature two green LED indicators for easy indication of generator power or AC power availability. When "on" two separate red LED indicators are used to display the need for service required for the shore power section, indicating a destructive power surge.
Other features include a time delay circuit board to ensure generator voltage is at a stable level before transfer; rugged, heavy-duty, screw-type wiring terminals for easy wiring and to prevent wiring errors; an easy to remove protective cover; and 70-amp neutral rating.
Progressive Dynamics Inc. is a privately owned corporation, providing products for the RV, specialty and marine industries which are designed, assembled, tested, warranted and serviced in the United States. Progressive Dynamics' full line of products includes power centres, power converters, Charge Wizard® systems, distribution panels, automatic transfer switches, 12-volt lighting, and marine and specialty products. No matter the product, customers receive superior quality and warranty service after the sale. Constant engineering and design updates ensure superior products.
For more information, contact Progressive Dynamics Inc., 507 Industrial Road, Marshall, Missouri 49068.
Phone: 269-781-4241.
Fax: 269-781-7802.
Website: www.progressivedyn.com.
Email: [email protected]