Kid-approved dinner: Pepperoni pizza pasta
Healthy, satisfying and fun to eat
by News Canada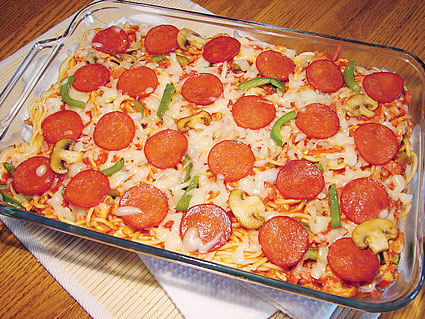 (NC)—Looking for a new way to tempt the kids with a nutritious dinner they'll actually eat? Try this high-fibre pasta dish disguised as a pizza.
Ingredients:
1 pkg (454 g) Catelli Smart Spaghetti
375 mL (1-1/2 cups) sliced deli pepperoni
50mL (1/4 cup) finely chopped onion
1 green pepper, chopped
500mL (2 cups) sliced mushrooms, optional
5 mL (1 tsp) each dried oregano and basil leaves
500 mL (2 cups) pizza sauce (|approx|)
500 mL (2 cups) shredded mozzarella cheese
2 eggs, beaten
50 mL (1/4 cup) Parmesan cheese
Directions:
Cook spaghetti according to package directions. Drain well. Preheat the oven to 350 degrees F (180 degrees C.)
Slice all but 50 mL (1/4 cup) of the pepperoni into thin strips.
Stir the pepperoni strips, onion, green pepper, mushrooms (if using), oregano, basil, pizza sauce, half of the cheese, eggs and Parmesan in a large bowl until well combined. Toss the sauce mixture with the cooked pasta.
Transfer the mixture to a greased 9 x 13-inch (3L) baking dish. Sprinkle with the remaining cheese and dot with the reserved pepperoni slices. Bake for 30 minutes. Let the dish stand for 5 minutes; slice and serve with additional warmed pizza sauce if desired.
Serves: 8
Prep time: 45 minutes
Tip: Make this casserole your own by stirring in your favourite pizza toppings.