Potato Boat Dinner is perfect for the campsite
A great tasting, easy camping recipe
by Angie Pitre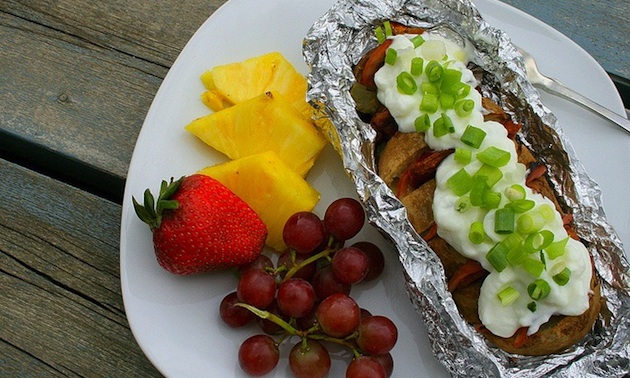 Angie Pitre of the Echoes of Laughter blog said that one of her most popular recipes is this scrumptious-looking foil packet potato filled with ham, bacon and cheese. This is a perfect treat to make while RVing.
This meal is easy but does require some planning and a bit of prep. Bake the potatoes before you leave home and wrap them in aluminum foil to take on the camping trip. Keep them chilled.
Potato Boat Dinner
Ingredients:
Large potatoes, baked
Sliced ham
Cooked bacon slices
Cheese slices (we like marble)
Sour cream for topping
Green onion for topping
Directions:
Slice baked potatoes. Between the cuts, stuff a slice of cheese, bacon and ham. Add small dabs of butter on top of each of the slices. Salt and pepper to taste. Wrap potato in a double layer of aluminum foil lightly sprayed with cooking spray. Place on a hot barbecue for approximately 20 minutes, until potato is hot and cheese, ham and bacon have melted together and it looks toasty and good. Top the Potato Boat Dinner with sour cream and green onion if you like.
The Potato Boat has so many possibilities. You could leave out the ham and bacon and just add cheese and broccoli, or chili, or cooked taco meat. Serve the Potato Boat Dinner with a big green salad, a Caesar salad or fresh fruit. I like to add fresh fruit because it's a nice change from the saltiness of the bacon and ham.