Walk the walk in Calgary
Taking a stroll down Calgary's Bow River has become a great way to discover the arts, thanks to the newly completed RiverWalk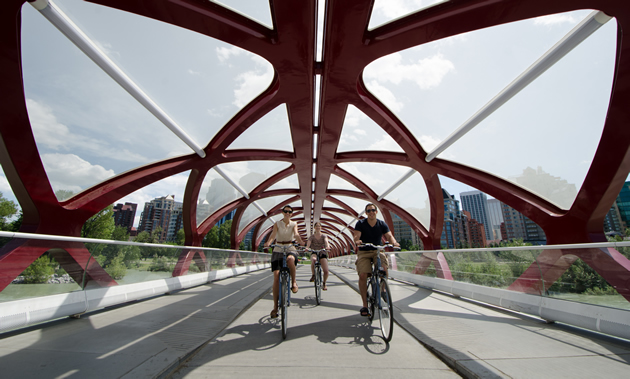 It is rare that an urban area can offer an outdoor space that combines art and attractions as well as Calgary's recently completed RiverWalk does. This attractive path is a popular option for walkers and bikers, but also includes areas to relax, wide steps down to the river, a plaza and various viewpoints. The walk was the only Canadian site that was recently nominated for, and was a finalist in, the American-based Urban Open Space Award. Covering only a few kilometres, this path encompasses sights and areas that could keep visitors busy for days.
Starting off on the right foot
Beginning just off the west end of the RiverWalk, the Peace Bridge is an intriguing piece of architecture. Its sleek red and white diamond design is attractive and the bridge is convenient for pedestrians as it crosses into downtown and Eau Claire Park. Directly east of here is access to Prince's Island Park. It offers an enjoyable stroll in its own right, but this park also hosts a number of exciting events.
"Prince's park is an island that's in the middle of the Bow River," said Jaelyn Molyneux, editor of Calgary Culture. "It holds many of our outdoor festivals. The Folk Fest, which happens in the summer, is there as is Shakespeare in the Park, which takes place throughout the spring and summer. It also holds frequent outdoor concerts."
Calgary is a great destination for anyone who enjoys public art, as it is prolific throughout the city. The RiverWalk is no exception and showcases photos of people in water. Just a short detour away from the path is the chance to admire one of Calgary's newest additions. Wonderland is a sculpture by renowned artist Jaume Plensa. Keeping with international Plensa-like tradition, the piece is 12 metres high and depicts the head of a young girl, which, being constructed of bent wire, can also be viewed from the inside. It is located outside Calgary's Bow building, which can be found by walking down Centre Street to Fifth Avenue SE.
After returning to the RiverWalk and continuing on their way, visitors will find themselves in the East Village. This piece of the city is evolving into an engaging place to stop by. There are developments planned, but meanwhile, the East Village hosts various events such as outdoor markets, yoga in the park, outdoor concerts, food truck culture and a vibrant arts scene.
All's well that ends well
Continue to meander down the river and you'll come across yet another exciting area.
"From there you'll reach Inglewood, which is the oldest community in Calgary," said Molyneux. "They have the Ironwood Stage and Grill, which is a cool folk restaurant and bar. They have live bands every night, which can be a lot of fun. There's the folk music festival hall there as well—that's brand new for this year."
Calgary is a lively city with lots going on. Its theatre, art galleries, stellar events and the Glenbow Museum also provide an intriguing look into its cultural heritage. However, why not start by spending some time along a new and renowned RiverWalk to really get a feel for Calgary's up-and-coming arts scene.