The blue, bluegrass of home
Gwen and Gord Moffatt are dedicated RVers who live amongst some of the most rugged beauty in Canada.
by Tanya Laing Gahr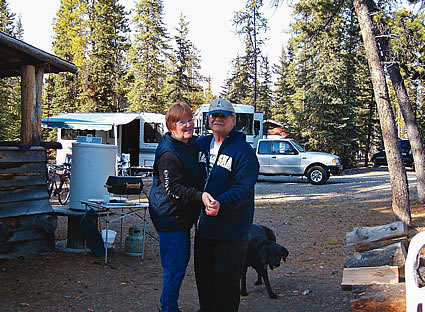 There is a rhythm to Gord and Gwen Moffatt's year. Like many residents of Canada's Great White North in Whitehorse, Yukon, they hunker down in the long, dark winter months. In the spring, the tempo increases as the sun comes up and stays up. By mid-June, the Moffatts are ready to kick up their heels, jump in their motorhome and head for the annual Kluane Mountain Bluegrass Festival. The weekend marks the beginning of a summer of RVing in the larger-than-life wilderness of the Yukon.
Bluegrass is a passion for Gord and Gwen, as is the weekend of camping, two-stepping and hootenannying. They've helped organize the festival in Haines Junction for the past eight years and when it moves to Whitehorse in 2011, they'll be a part of bringing renowned bluegrass acts to the stage.
"As a kid, I used to listen to bluegrass all of the time, but I didn't know what it was," said Gord. "When we first came to the festival eight years ago, I?said, 'That's the music I've been missing.' "
Gwen said that she and Gord will dance wherever they are when the music they love is playing—in the house, in the yard or in the campground.
"It's our tradition," said Gwen. "It started out with six of us having a little dance on the beach following the festival to the CDs that we've bought. And now it's grown so that bands who come to the festival come to our party . . . and jam around our campfire."
Gord and Gwen bought their motorhome, an Itasca Sonova, four years ago, but Gord said it has less than 10,000 kilometres on it because they prefer to camp locally. Their favourite spots on Lake Laberge and Fox Lake are close enough that they can commute to work while enjoying the incredible beauty of the North.
"We love the Yukon so much that we're not willing to sacrifice a Yukon summer to go somewhere else," said Gord.
Their time in the RV and in the Yukon is so special to them that they renewed their wedding vows on their 35th anniversary three years ago.
"We walked in to bluegrass music, said our vows together and cried," said Gwen. "It took Gord two martinis to walk up the aisle, but he survived."
The Moffatts are taking a leave of absence from their jobs this fall so they can test semi-retirement, visiting snowbird favourites such as California and Nevada.
"There's bluegrass festivals down there, too," said Gwen. "We'll probably hit some of them."