Art and healing waters
The small, laid-back communities of Watrous and Manitou Beach have more than one claim to fame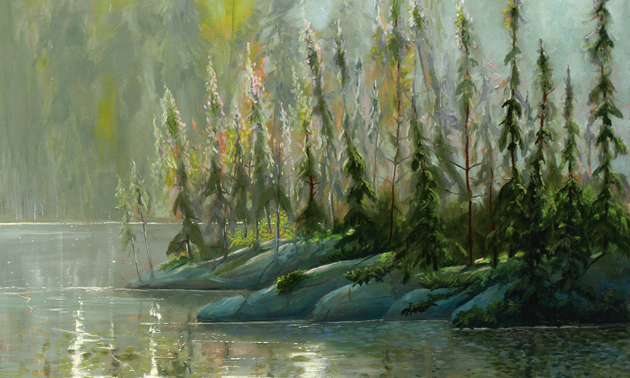 The resort communities of Watrous and Manitou Beach in central Saskatchewan have been famous for the healing waters of Little Manitou Lake for over a century. In the 1920s, this prairie oasis would draw as many as 15,000 visitors on a summer weekend. These days the numbers are smaller but still significant. The resident population of the Watrous-Manitou Beach area is about 2,300, and that figure more than doubles during the summer.
Creativity flourishes
Brendan Manz, community development officer for Watrous Manitou Marketing Group, said that something about the area attracts creative people; there are over 100 artists living within about 50 kilometres of the community.
The Spirit of Manitou Studio Trail is a popular summer event scheduled for July 6 and 7 this year. The 2013 Studio Trail will begin at the Watrous art gallery—Gallery on 3rd, which opened in 2010. Following a 50-kilometre route, visitors will be welcomed into the homes and studios of about 15 artists centred in five areas.
"The gallery itself is open year round," said Manz, "and they do programs and workshops as well as exhibits. They bring in month-long displays through OSAC (Organization of Saskatchewan Arts Councils)."
Sketch of an artist
Darrell Baschak is a self-taught Watrous artist who told us that he hangs out with some pretty cool artists—some professional and some not.
"Everyone has something to teach you if you're open to it," he said. "For me, the trick is to not just copy nature, but to try to express my inner response to what I'm seeing."
Until April 4, 2013, there is a 28-piece solo exhibition of Baschak's works at the 8,000-square-foot Shurniak Gallery in Assiniboia, Saskatchewan, and he's in some pretty exalted company. Philanthropist and gallery owner William Shurniak also has paintings from the Group of Seven and some contemporary Canadian and European art on display. Baschak said that it's a pleasure and an honour to be shown there.
"I'm happy to be involved with the Soul Gallery in Winnipeg now as well," Baschak said. "It's a by-appointment-only establishment run by professional designer Julie Walsh, who came across my work through CARFAC (Canadian Artists' Representation le Front des Artistes Canadiens), where I'm a member."
Because he was selected as a winner in an OSAC-juried competition, Baschak has been invited to submit a proposal to OSAC to be considered for a travelling show that will exhibit throughout Saskatchewan.
Apparently Baschak put his paints away for a long stretch some years ago, when his carpentry work and busy family life claimed all of his time and attention. When a less demanding lifestyle once again allowed him time for painting, he couldn't remember where he'd stored his supplies. Luckily, though, his talent and inspiration were still at hand.