Gas versus diesel, towing a vehicle
Ed figures operating a diesel motorhome adds up to about double the cost of a gas unit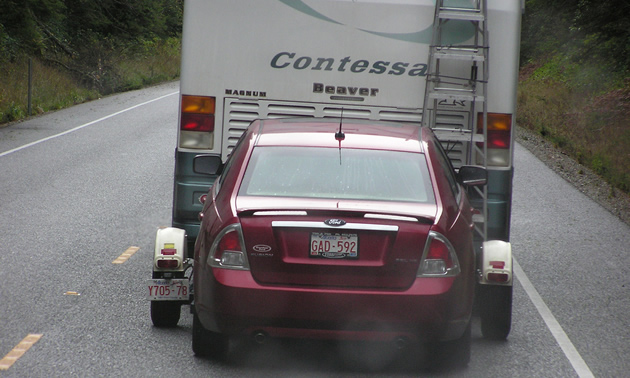 There was a time when diesel fuel was much cheaper than gas, but that is sure not the case now. At one time last year I saw diesel advertised for a dollar a gallon more than gas.
Even before the price went way up, I considered my cost per mile traveled in the diesel almost twice what my gas unit was. After all, the initial cost of a diesel coach will be considerably more than the almost equally-equipped gas unit. So it becomes a question of how much extra you are willing to pay for a little more luxury. If you can afford it, go with the diesel.
The tow vehicle
In most cases you will want to tow a car for use in your travels. I found it did not really not add much to the amount of fuel consumed.
You will need to decide on a tow dolly or buying a vehicle that can be flat towed. In our travels I have noted that about 90 per cent of the RV tow vehicles I've seen were being flat towed. This does limit the kind of vehicle you can take on your holiday, as there are not many vehicles that can be flat towed unless they are a standard transmission.
There is good and bad to both systems, but I went with a tow dolly. This allowed me to go with the car that I wanted and gave me the option of taking any car without the need of special wiring and mounting brackets. The only complaint I had with the dolly was the strapping that you use to tie the wheels to the dolly would stretch in the rain. So if you are driving in the rain, you need to stop and check the straps from time to time.
With both systems, backing up is not an option and you need to be prepared to unhook your tow vehicle to get out of some tight spots.
It should be noted that the above is only my experience and I do not consider myself an expert in anything but relaxing.
Gail and I could not get over the low house prices in Arizona and Nevada, and ended up buying a winter home in Arizona.
But that is my next story.