Canadian-made Leisure Travel Vans' Unity gets a concept look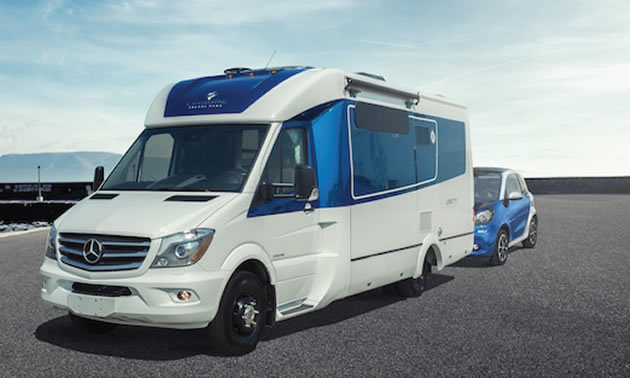 Leisure Travel Vans, a brand of Triple E Recreational Vehicles, is excited to present a concept version of its successful Unity RV at America's Largest RV Show in Hershey, PA. This special edition Unity pushes the design envelope both inside and out, while also introducing a slew of driver and passenger-friendly entertainment features.
"Our design team has spent several months putting together this concept package for the Unity and they've done an amazing job of creating a stunning vehicle that truly makes travel a pleasure for all the senses," commented Ryan Elias, General Manager of Triple E RV.
"Anyone attending the upcoming RV shows in Hershey, Louisville, Pomona, and Tampa should make a point of visiting the LTV displays and step inside the concept Unity so that they can see, hear and feel for themselves. The purpose of the concept was to explore some new design ideas and gather feedback from our customers and followers" he added.
The concept Unity's exterior colours are a sleek white with midnight blue and black highlights atop matte black Alcoa wheels that add a touch of rugged styling to vehicle's overall modern, sporty look. The top-of-the-line interior cabinetry, flooring and textiles create designer surroundings from top to bottom. The interior color scheme is an on-trend blue, soft white, and coal, with blue being chosen for its calming effect. The cabinetry has a new wood look named Modern Rift that exhibits a fine textured straight grain in a soft, warm gray. Italian-design FENIX NTM® doors in soft matte white and blue have anti-fingerprint and micro-scratch surfaces whose hygienic nanotechnology also resists mold and bacteria.
The slate-like patterned flooring feels natural to the barefoot touch, while the state-of-the-art Ultratech™ fabrics by Ultraleather® that are used throughout have refined matte finishes and are engineered to be durable and easy to maintain. Corian® Antarctica countertops, matte black Taymor faucets, a backlit bathroom mirror, and under-cabinet lighting each add their own touch of elegance and functionality to the stylish appearance of the concept Unity.
Entertainment features include two Vizio Smart TVs pre-loaded with apps and connect to the internet through the unit's 4G/LTE mobile Wi-Fi hotspot. RVers can kick back and go online, stream movies or enjoy music from the impressive audio provided by the JBL Premium audio system with subwoofer.
RV fans can have a close-up look at the new concept Unity RV online at www.leisurevans.com/concept. Submit your feedback for a chance to win an iPad Air 2!
The concept Unity will be displayed at the following RV shows:
America's Largest RV Show in Hershey, PA from Sep. 14-18, 2016
California RV Show in Pomona, CA from Oct. 7-16, 2016
RVIA National Trade Show in Louisville, KY from Nov. 28-Dec. 1, 2016 (Industry Show)
Florida RV Supershow in Tampa, FL from Jan. 18-22, 2017