Attention RVers: Hyundai Releases New Line of HY Inverter Generators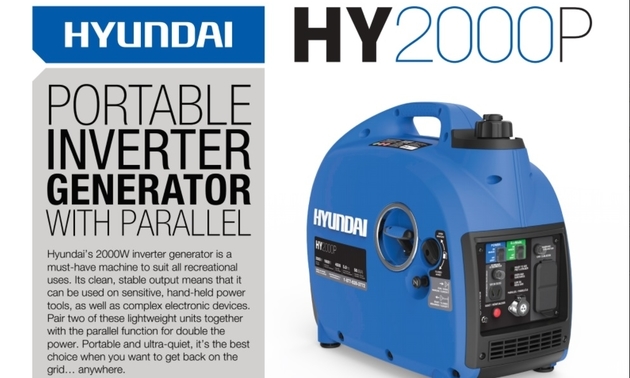 RVers are sure to be pleased to hear that Hyundai has released a new line of HY inverters generators and especially that the generators have an integrated 30 amp socket which makes it perfect for powering RV trailers and units.
The brand new HY2000P and HY3200 comprise our 4th generation of inverter generators and are a huge leap forward for Hyundai Generators. We have been working on this unit for many years, and are confident that it can rival the gold standard Honda puts forth. It is a complete departure from our older models; new factory, custom made inverter board years in the making, extremely quiet and lightweight, all with parallel capability.
The HY2000P and HY3200 generators are equipped with gravity fed large capacity fuel tanks, ergonomic handles, and quietly produce up to 2000 watts and 3200 watts of clean electricity respectively. Making them the ideal inverter generator to power common and sensitive electronic devices during camping trips, hunting, traveling, tailgating, light jobs around the house, and the integrated 30 amp socket makes it perfect for powering RV trailers.

These new generators debut with our completely redesigned inverter boards capable of dual loop control, unique to Hyundai. Dual loop control monitors and regulates both current and voltage, and will hold a solid sine wave even during rapid load changes and high peaks beyond the running wattage rating of the generator with less than 2% total harmonic distortion. With this new technology, the HY series can power difficult tools others cannot, including angle grinders and circular saws.

Expanding on this core technology, both the HY2000P and HY3200 are the quietest in their classes, providing quieter power than any other inverter generator at any load. The HY2000P includes an easy to use single connection parallel port that allows the user to combine two generators with parallel capability together. That means two HY2000Ps can be combined together with an output of 4000W, capable of powering a 15,000 BTU air conditioner.

The HY3200 is absolutely packed with additional features including remote start up to 100 feet away, a multi-function digital display, fuel gauge, folding handle and wheel kit, and the largest engine displacement in its class by a large margin at 208cc. All models come with outlets protected by rubber covers.