Anaheim RV Park is expanding in response to increasing consumer demand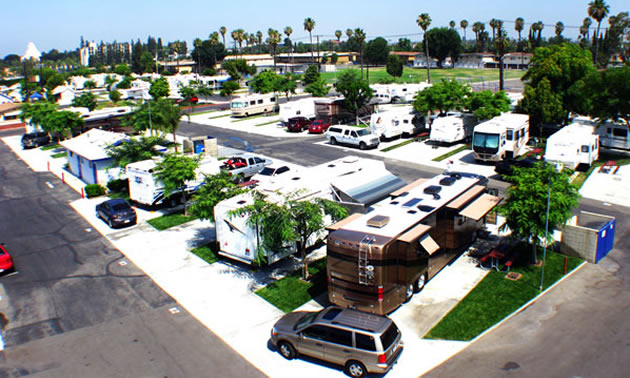 ANAHEIM, Calif., September 2016 – Anaheim RV Park is expanding to 117 RV sites in response to rising consumer demand for RV sites close to Disneyland as well as the park's steady stream of positive reviews on TripAdvisor.com.
"We're rated Number One on TripAdvisor, so that rating combined with our proximity to Disneyland makes us highly sought after by RV enthusiasts heading to the Magic Kingdom and other Southern California attractions," said Vern Mangels, Anaheim RV Park's third generation owner and operator.
Mangels said the expansion, which starts this week, will continue through late October as the park expands from 112 to 117 RV sites. Six existing RV sites will also be reconfigured into larger RV sites as part of the expansion.
"We not only need to accommodate more people, but larger RVs," Mangels said, adding that the new RV sites will be equipped with attractive electrical pedestals as well as water and sewer service hookups.
The expansion coincides with Anaheim RV Park's 60th anniversary celebration, which will take place Oct. 8th at a local venue. Several dignitaries are scheduled to attend the event, including Anaheim Mayor Pro Tem Lucille Kring; Anaheim City Council Members Jordan Brandman and Kris Murray; and Orange County Supervisor Todd Spitzer. Anaheim RV Park is one of the city's oldest continually operating family owned businesses.
Mangels is the grandson of L.V. and Miriam Bostwick, who originally founded the park in 1956 as Midway Trailer City. In those days, it was a mobile home community. But when Disneyland expanded in the 1970s and bought up RV parks on the west side of the amusement park it created a need for more overnight RV spaces. The Bostwick family eventually decided to transition their park from a mobile home park to an RV resort in the late 1980s.
It turned out to be a prudent decision. Even today, most of the park's guests are travelers heading to Disneyland. But Mangels said business success—and high customer ratings—require much more than a good location. In the RV business, it also requires exemplary facilities and amenities and a willingness to make continual improvements.
Toward that end, Mangels has spent over $1.5 million in park improvements during the past seven years. This includes building an on-site 1960s Cafe; updating the RV sites with new utility connections and picnic tables; remodeling the park's office and swimming pool; adding new areas for guests to walk their dogs; installing programmable swimming pool and restroom door locks; and installing a reliable, high-speed, Wi-Fi system as well as upgrading to a cloud-based computer server.
Mangels has also increased the number of people working at the park to handle maintenance as well as front desk check-ins, which was close to 8,500 in 2015, translating to nearly 44,000 guests.
"People receive an incredibly high level of guest service when they go to Disneyland, so I've raised the bar here," Mangels said, adding that his park has also received more than 1,000 reviews on TripAdvisor.com and been rated the number one specialty lodging provider in Anaheim for the past six years, earning the coveted Hall of Fame award for the first time last year.
And since the people who stay at Anaheim RV Park are typically heading to Disneyland, Mangels has forged a partnership to sell Disneyland tickets. "We're the only RV park that sells actual Disney tickets on our property, which means our guests don't have to wait in long lines to get their tickets," Mangels said, adding, "We sell a lot of them."
The park, which is less than 1 mile from Disneyland, also has an Anaheim Resort Transit (ART) shuttle stop on their property, which offers convenient transportation for RV park guests to and from Disneyland and the surrounding area.
Anaheim RV Park has also received an "A" grade in overall guest satisfaction from GuestRated.com for five consecutive years. Only 34 out of about 4,000 campgrounds, RV parks and resorts across America received all around 'A' ratings in the latest GuestRated.com consumer surveys.
"If you do the math, that amounts to fewer than one in 100 campgrounds, RV parks and resorts receiving all around 'A' ratings in our consumer surveys," said Bob MacKinnon, a former Disney Company executive who founded GuestRated.com, the nation's most thorough online rating system for public and privately owned and operated campgrounds.
Indeed, while online surveys typically give consumers the ability to post their comments, most online survey forms ask consumers to rate only a few things, like value, location, cleanliness and service. GuestRated.com, by contrast, solicits consumer feedback on 55 different guest satisfaction questions in addition to providing consumers the ability to post written comments and suggestions.
Four years ago, Anaheim RV Park was also named "family owned Business of the Year" by the Anaheim Chamber of Commerce in an awards ceremony recognizing the park's exceptional business achievements and outstanding commitment to Anaheim's business community.
"We're obviously very humbled and blessed to receive these local and national awards," Mangels said.
For more information about Anaheim RV Park, please visit www.anaheimrvpark.com. Other privately owned and operated campgrounds can be found at www.Camp-California.com.