Two prizewinning dogs hit the road in style
It's a dog's life for these two golden retrievers from Calgary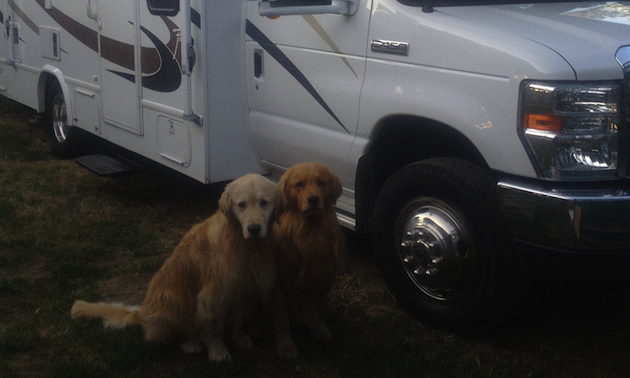 Every year, the American Golden Retriever Nationals are held in a different U.S. city. Every year, dogs and owners converge there to compete, meet, mingle and show off the talents of some of the very cleverest canines.
Competitions in agility, obedience, tracking and field events draw golden retrievers and their trainers from near and far. Some come by car. and some come by plane. The very luckiest dogs, of course, come by RV.
Last year, Cedar and Puzzle, two very impressive pups from Calgary, Alberta, made their way to St. Louis, Missouri, for the 2012 Golden Retriever Nationals in the comfort and style of their very own motorhome.
Technically, the RV is owned, driven and maintained by their owner and trainer Leanne Tucker—but the rig really belongs to the dogs.
With over 20 years' experience training and showing dogs, Tucker is no stranger to dog shows. RVs, on the other hand, were a new adventure altogether. After months of research and shopping, Tucker found herself behind the wheel of a 2008 Forest River Sunseeker Class C motorhome.
Choosing an RV
"I didn't really know what I was looking for until I saw a few models," said Tucker. "I narrowed it down to a 25-foot model with a slide for extra room. I liked the idea of the bunks above the cab for extra storage. The 25-footer also had a pantry and a bit more storage than the 23-footer."
Storage is essential, especially since Tucker travels with several exercise pens so that she can create a yard for the dogs wherever she goes. Along with other tools of the trade including food, bowls and dog beds, Tucker never leaves home without a powerful hand-held vacuum. Shedding is always an issue.
Not many would choose Calgary to St. Louis for their inaugural RV adventure. Tucker and the dogs, however, had things to do and places to be. The trip took more than 30 hours, spread over three days. Luckily, Tucker had a human companion along to help with the driving. Nonetheless, the gang covered a lot of miles in a short time. Overall the trip went smoothly, said Tucker.
The big drive
"Challenges along the way were the wind; it takes a little bit of time to get used to the effect of the wind as well as passing or getting passed by large trucks. They kind of suck you in and fling you away."
The dogs remained unfazed. They found places to curl up and doze away the hours. Although they are allowed to sleep in the people beds, they are not permitted in the front seats—for safety's sake.
The weary travelers found refuge for the night in Wal-Mart parking lots, always a welcome sight after a long day on the road.
"That set us back an hour or so every day because we felt the need to go into each Wal-Mart and spend some money," said Tucker
In the future, Tucker plans to stop at the occasional campground instead of doing all her overnights in parking lots.
Both Puzzle and Cedar performed well at the St. Louis Nationals. Cedar won a number of ribbons and Puzzle won a ribbon in every event he competed in.
So, what's next?
The 2013 Golden Nationals take place in Texas, and yes, Tucker and the boys will there, eager to add a few more ribbons to the collection.
The RV will be getting a few upgrades before the next big trip. Firstly, a generator will be installed. Not surprisingly, some of the camping available at dog shows is impromptu, with campsites springing up in parking lots or parks. A lack of power, and consequently air conditioning, is a real concern, especially in locations such as Texas, Tucker's next stop.
Along with the generator will come a hitch. This will allow for a truck to be towed, a real asset when it comes to field events.
Finally, a GPS that works reliably in the U.S. is on the shopping list. There surely is nothing quite like being lost with a cargo of canines relying on you to get them to their next big gig.
You just never know who you'll find behind the wheel of the other RVs on the road, so give a wave. You might be cheering on a champion.