The Roadmaster Spare Tire carrier—a simple solution to avoid roadside woes
Spare yourself the hassle!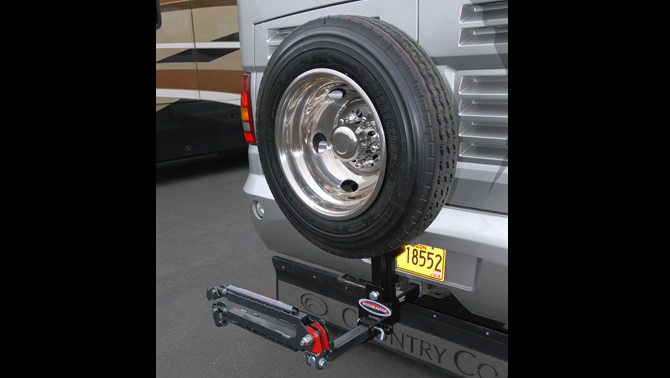 You've spent your time and energy planning the perfect vacation getaway in your motorhome—you've got your route all mapped out, the RV is packed and ready to go, the excitement is building and you're ready to hit the open road. But why risk the possibility of jeopardizing all that hard work when unexpected events happen?
When it comes to a flat tire, most motorhomes don't carry a spare. Be proactive and get a Roadmaster Spare Tire Carrier—before you find yourself stranded in the middle of nowhere on a Sunday evening, waiting hours for a tow truck to arrive. With a ready-to-go spare, you can be back on the road quickly.
The Roadmaster patented-design carrier installs easily and comes with a built-in, two-inch receiver hitch for a tow bar, hitch rack or other hitch accessory. The design still allows you to tow a car or attach a bike rack and access your engine compartment. The carrier can be lowered to either side for engine access or ladder clearance. To ensure durability and corrosion-resistance, the carrier is powder-coated.
Specifications:
For 16-, 16.5-, 19.5-, 22.5- and 24.5-inch wheels
10,000-pound maximum capacity
400-pound maximum tongue weight
Mounts in a standard two-inch receiver
The Roadmaster Spare Tire Carrier—spare yourself the hassle!