New portable CPAP machine is perfect for RVers
Transcend is manufactured by Somnetics International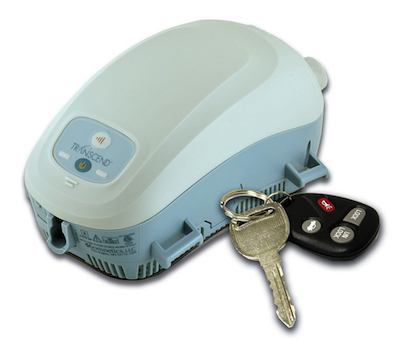 If you've ever tried to sleep in an RV with someone who snores due to sleep apnea, you'll be interested in a new product called Transcend, a portable CPAP unit for travellers with sleep apnea that fits in small suitcase. Its solar-powered battery recharger even enables use without power.
Transcend is the world's smallest, lightest and most portable continuous positive airway pressure (CPAP) and battery system and is made by Somnetics International Inc., the Minneapolis-based innovator of sleep apnea products.
Transcend offers campers, long-distance drivers, business travelers and people who vacation on cruise ships or are frequently in an airplane reliable sleep apnea therapy. It's is easy to transport and use with or without a direct power source. Weighing about one pound, Transcend can fit in the palm of your hand and is about the size of a soda can.
Battery power and solar recharging
Transcend is the only CPAP available with portable battery power and solar power recharging options. A lightweight battery system the size of a deck of cards) provides reliable power in remote locations, making Transcend ideal for airplanes, boats, RVs, cruise ships and in hotels.
For information about Transcend call 877-621-9626.