Top things to see and do in Chicken
Open only during the warmer months, the Town of Chicken, Alaska may look like a ghost town, but in reality it's a popular stop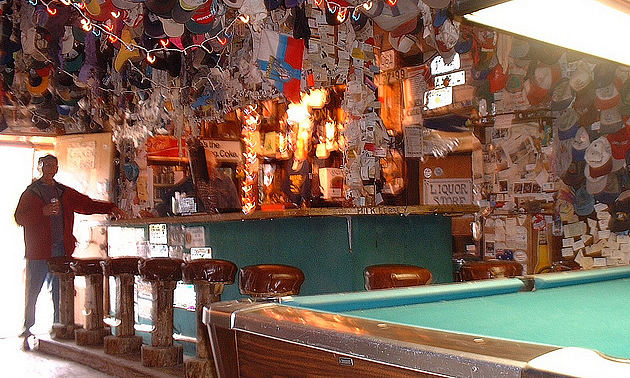 Say Chicken, Alaska, and many will think you're talking about a new favourite recipe, but Chicken is actually a very colourful and eccentric little town that traces its roots back to 1886 and the Klondike Gold Rush. While it was once a gold mining hub, today's Chicken is now a quiet little town that helps you step back in time to experience firsthand what life was like back in the golden days. Feel free to visit anytime between the Memorial Day weekend in May and the first weekend of September simply by taking the Klondike Loop from Whitehorse to Dawson City and then travelling the Top of the World Highway. As the Top of the World Highway from Dawson City turns into the Taylor Highway, you'll cross over Chicken Creek and find downtown Chicken when you take your first left. Once you've arrived you can:
1) Visit the Chicken Creek Saloon
The Chicken Creek Saloon features unusual decor—everything from a stuffed elk's head, to license plates, baseball hats and polaroid photos of past visitors—among other interesting items. If you're lucky, you may even see an authentic gold miner or two, many of which still pay off their saloon tabs with raw gold.
2) Strike it rich
Try your hand at the age-old local pastime of gold panning. You can venture out into one of the federal patented mining claims that the town offers, or take a dip at the gold panner trough that's heavily salted with gold just for tourists. Located on Chicken Creek next to the gazebo, the trough may not teach you all there is to know about authentic gold panning, but you will get a chance to feel that adrenalin rush of discovery that caused thousands to give up hearth and home in order to seek their fortunes.
3) Step into the past
Take a tour back in time to the gold rush era through daily walking tours that start at 9 a.m. and 2 p.m. from the Goldpanner Gift Shop. During your tour you'll learn how the town got its unique name, visit the old schoolhouse where pioneer resident Anne "Tisha" Hobbs Purdy once taught school in 1927, and visit other original old-time buildings—including the Chicken Creek Hotel, the Chicken Roadhouse and the hub of Chicken, its post office established in 1906. Quite possibly the cutest post office you ever did see. You'll even have an opportunity to find out the answer to the age-old question: Why did the chicken cross the road?
4) Discover the dredge
Made a national historic site in 2006, the Pedro Dredge originally operated at Pedro Creek, 15 miles north of Fairbanks, Alaska in 1938, before it was disassembled and trucked to Chicken Creek, where it worked from 1959 until 1967. Producing a total of 58,000 ounces of gold in its time on Chicken Creek (roughly 50 million dollars worth), this bucketline dredge is now permanently located at the Chicken Gold Camp and open to the public.
5) Paddle the Fortymile
Whether you're an experienced kayaker travelling with your own, or a beginner looking to rent, the Fortymile River in Chicken offers all a chance to explore the history of the area from the water. With guided tours and rentals suitable for beginners, available at the Chicken Gold Camp and Outpost, you can take a peaceful float up the Mosquito Fork and upper South Fork, and visit the abandoned Cowden gold dredge which is only accessible by water.