RVers favour Prairie Oasis Park
Prairie Oasis Park in southeastern Alberta is a popular vacation and recreation destination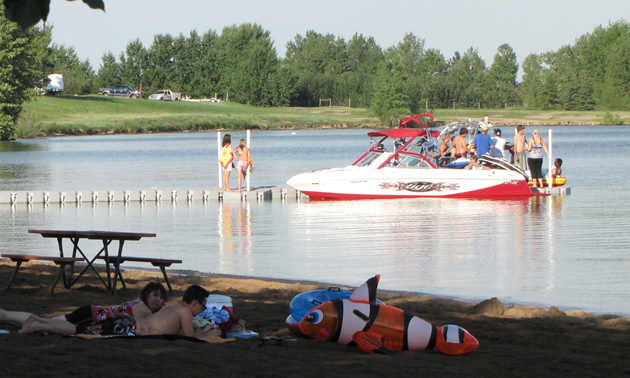 John Armstrong is the parks supervisor for Alberta's Special Areas board, which administers an area covering 5.1 million acres in southeastern Alberta. Prairie Oasis Park—an RV park that scored high in RVwest magazine's Readers' Choice Awards—is one of the municipal parks in his jurisdiction.
"We've been drawing up expansion plans for the park for a few years, and have been working on site since Christmas," Armstrong said. "We've got three Cat scrapers, a D7 Cat and a grader working on it. We'll have to wait until the thaw to put the services in and plant grass and trees, but we've moved a lot of dirt to get the site level and prepared."
Recognizing potential
One of the main attractions at Prairie Oasis Park is Sheerness Cooling Pond, a reservoir measuring two miles by two miles that was built by ATCO Power in 1983. The pond water is on a closed-loop system used to cool the condensers at the nearby coal-fired thermal-generating station.
"We've been developing the park since about 1990," Armstrong said. "We saw the potential for recreation for visitors and our local people, and it has turned out to be a real asset to this area."
Sheerness pond has a beautiful beach for bathers, a smaller dog-friendly beach and a newly completed 10-kilometre trail that runs around the pond.
A product of teamwork and a benefit to all
Prairie Oasis is a lot more than a destination park for visiting RVers—it's important to the surrounding community. The park provides summer employment for 15 to 20 students in a geographic area where employment options are scarce, and many of them have financed their post-secondary education with their earnings. Summertime park attendants Roy and Delores Dussome have been welcoming newcomers and regular visitors to Prairie Oasis for 15 years.
Within about an hour's drive of Prairie Oasis are close to a dozen small communities that capitalize on the proximity of the park and its beach as a popular destination for a summer evening or a weekend.
"There aren't many bodies of water in the Special Areas," Armstrong said, "and for the local water sport enthusiast, the pond is terrific. This water is warmer than it is elsewhere, so you can water-ski and use the beach a lot earlier in the season and later into the fall, too."
Armstrong said that the development and maintenance of this municipal park has happened because many area residents worked at it, and seeing it as a thriving, successful venture is a matter of community pride.